Hitachi CM821F 21 inch Flat Face Monitor Review
---
Big monitors, like big cars, are double edged swords. Sure the large display area is extra nice, and the better picture quality a huge bonus, but what about the loss of...errr.... sorry, there really aren't any downsides - I was just trying to make those of you coping with tiny 17" monitors feel a bit better about your situation. Sorry folks. It's time you joined the real world and got yourself something bigger than a 17 incher.
Now, if you've just become employee of the month by suggesting your company website start running pop-up ads, why not start off your list of demands with a spiffy new dual input 21" flatface display like the Hitachi CM821F? The 0.214mm dot pitch display features anErgoFlat Technology Invar Shadow Mask CRT, advanced extended elliptical aperture, multi-step dynamic focus tube, and an anti-static, anti-glare coating. If your boss objects, just tell him/her that it is less expensi ve than a 21" LCD flatscreen.
In all seriousness, there are quite a few tangible benefits in terms of productivity, (and gaming) that go hand in hand with a nice big display. More screen real estate equates to more windows open, or possibly larger spreadsheets for accounting. For the gamers out there, a bigger screen is simply a blessing. Anyhow I don't think I really have to convince anyone that bigger displays are better for everyday work!
Hitachi CM821F Display

21" CRT, ErgoFlat Technology, Invar Shadow Mask CRT. Advanced Extended Elliptical Aperture, Multi-step Dynamic Focus tube. High contrast, anti-static, anti-glare coat
0.214 mm average horizontal dot pitch, 0.14 mm vertical dot pitch.
1856 x 1392 max resolution
Dual 15-pin D-sub analog video inputs.
Comes with: 6 foot power cord, 6 foot video cable, drivers, manual.
Weight: 67 lbs
Power Consumption: 120W
Manufacturer: Hitachi Displays
Cost: ~$800 USD
What is Flat?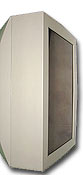 Flatface Cathode Ray Tube displays are quite varied in their flatness, seriously. Regardless of the name used by the marketing departments to denote these types of displays, the face of the display is not always going to be flat - at least not in the truest sense of the word. Naturally, any monitor which is labeled as a 'flatface' display should be flat on the outside, but not all displays will be flat on the opposite side of the glass.
This fact has largely become the cannon fodder of various marketing departments, but it does have some bearing on the level of picture quality appearing before our eyes.
The ultimate flatface display uses a flat piece of glass (on both sides) for the front of the display tube. This monitor has the highest level of picture clarity and geometrical integrity from what we've seen - almost on par with that of LCD displays.
The other two possible flatface variations are more akin to supped-up CRT's, with each boasting differing physical characteristics. The first adaptation of the flatface ideology has the internal side of the glass flat in one axes, and curved in the other. The other, if you haven't guessed it already, is more like a traditional CRT where the internal side of the front glass panel is curved in two axis. The Hitachi CM821F falls into the latter category.
Two Displays in One
The CM821F is one of the growing class of 21" displays that support multiple inputs. With two 15-pin analog connections on the rear of the display, it can be connected to two independent computers. An input select key on the front of the monitor lets the user switch from one video input to another with out having to restart either the display or the computers involved.

The bezel is fairly clear of buttons, with the majority of features accessible from the OSD. Still, there are a few key buttons on the front of the display to make navigating through that OSD simple. In addition to the input select key and the menu key, there are left and right keys, a plus and negative key (which also function as the direct contrast / brightness keys) a monitor status LED and a nice big power button.