Internetworking Technologies Handbook
---
Even the best of us sometimes need to look up techie info in a book... Now there is nothing wrong with admitting that, but if you pull out a lack luster resource book you aren't going to learn much are you? As they say, "good staff need excellent resources", and Cisco's Internetworking Technology Handbook may just be the one block of paper you need for all things networking. Roll up your sleeve and get your Cat 5 crimpers ready because this book isn't light reading. Heck it isn't even entertaining, but it does fill in the technical blanks better than any top 10 paper back ever could.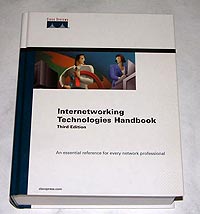 With extra strength coffees in hand we took this massive 1077 page book in hand began the process of skimming through it for some answers to some networking questions we've had for a while, and also some we already know the answers to - to gage the level of information the book is putting across.
Coffee, Ethernets and everything you ever wanted to know about cable.
Well almost. The book covered the section on cabling with fairly good detail. The differences in UTP cable were explained down to the resistance of the wire, but unfortunately stopped short of even a brief explanation of 468A and 468B wiring schematics - or any schematics for that matter. While the theory behind the assignment of MAC addresses is riveting I was kind of disappointed that such a basic bit of info as wiring cable was omitted. On the plus side, networking technologies from 10 Base T to 1000Base-X were covered, along with some fundamental network architecture discussions.
Would you like a network cache with your large SOHO blend?
The book makes and interesting discussions on network caching - something that can be a godsend if properly set up on a high traffic website. Ultimately though, and as you might expect the focus is on Cisco branded solutions to online caching. The treatment of the information is on the intermediate level, and stays on the holistic level. For example, if you are considering setting up network caching for your superfabulous techie site, and are confused about Overload Bypass and Dynamic Client Bypass, you can turn to page 805 and read a short paragraph about each technique. Ultimately the treatment is more descriptive than a hard core handbook on how to go about achieving the solutions, but the information is exceptionally clear and well written in plan language.
To be clear though, this is not a "dummies" book. Internetworking Technologies assumes you are at least partially familiar with many basic computing concepts. Those who find themselves reading this book will be those of us struggling to define exactly what ADSL is for example. Granted we all know it means internet over the phone lines, but who of us can really stand up in the pub and say "ADSL depends on advanced digital signal processing and creative algorithms to squeeze so much information through twisted-pair telephone lines?" Well, now you can at least...
The following chapters are included in Cisco Press's Internetworking Technology Handbook;
Part 1 - Introduction to Networking
Internetworking Basics
Introduction to LAN protocols
Introduction to WAN technologies
Bridging and Switching Basics
Routing Basics
Network Management Basics
Part 2 - LAN Protocols
Ethernet technologies
Fiber Distributed Data Interface
Token Ring/IEEE 802.5
Part 3 - WAN Protocols
Frame Relay
high-Speed Serial Interface
Integrated Services Digital Network
Point-to-Point Protocol
Switched Multimegabit Data Service
Dialup Technology
Synchronous Data Link control and Derivatives
X.25
Virtual Private Networks
Part 4 - Multiservice Access Technologies
Voice/Data Integration Technologies
Wireless Technologies
Digital Subscriber Line
Cable Access Technologies
Part 5 - Bridging and Switching
Transparent Bridging
Mixed-Media Bridging
Source-route Bridging
LAN Switching and VLAN's
Asynchronous Transfer Mode Switching
MPLS/Tag Switching
Data-Link Switching
Part 6 - Network Protocols
Open System Interconnection Protocols
Internet Protocols
IPv6
Xerox Network Systems
NetWare Proto cols
AppleTalk
Banyan VINES
IBM Systems Network Architecture protocols
DECnet
Part 7 - Routing Protocols
Border Gateway Protocol
Enhanced IGRP
IBM Systems Network Architecture Routing
Interior Gateway Routing Protocol
Internet Protocol Multicast
NetWare Link-Services Protocol
Open Shortest Path First
Routing Information Protocol
Resources Reservation Protocol
Quality of Service networking
Simple Multicast Routing Protocol
Part 8 - Internet Access Technologies
Security Technologies
Directory-Enabled networking
Network Caching Technologies
Part 9 - Network Management
IBM Network Management
Remote Monitoring
Simple Network Management Protocol