Note that for the purposes of hardware RAID 0 (striping) it is strongly recommended that you use two disks of the exact same model. For mirror (RAID 1) setups, this is not so essential, but the two drives should be of the same capacity.
Attach the drives to the RAID controller, one drive per channel, set as master for the best performance, and boot the computer. Note that while you can attach both drives to a single IDE port on your RAID controller, you will tend to get better performance with a pair of drives if you plug one into each port during startup, the RAID controller drive detection and setup screen will appear. With SATA hard drives, only one drive per port is supported, so this isn't an issue.
Press <CTRL-H> or other key combination as instructed to enter RAID setup.
For Promise RAID controllers
From the main menu, press '1' to enter Auto Setup. From here, you can choose either a RAID 0 or 1 configuration, referred to in this case as either 'performance' or 'security.' Note the separate drive configurations in the screen shots.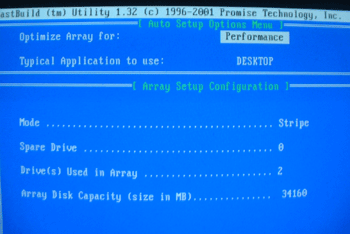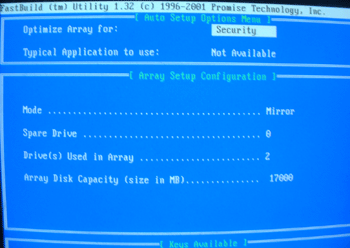 Choose and accept the desired RAID type. If you select a stripe (RAID 0) array, no further configuration is necessary. Accept the change and reboot.
If you elect to setup a RAID 1 (mirror) configuration, you must then choose whether you wish to simply create a mirror array (if you have two blank disks and want them to be exact copies when adding data in the future), or create the array and then copy the contents of one disk to the other (if you have a data drive and you wish to create a mirror copy of it for redundancy).
If you elect to mirror and copy data, you will be asked to choose a source drive for the data.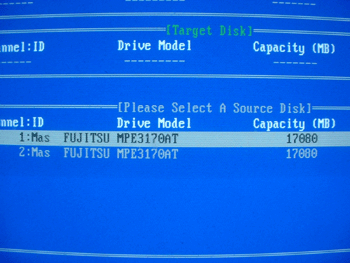 BE CAREFUL. Choosing the wrong drive here can be disastrous, so ensure that you know which drive is which. Paying attention to which port you plugged each drive into should help here, as they will be labeled on the motherboard or card. Once you have created the array, reboot.