From the main menu, choose 'create RAID'. Press ENTER on the first menu item, 'array mode' and choose either RAID 0 or RAID 1.
The second item, 'select disk drives' lets you specify which drives are included in the array, and if you are using a mirror, lets you choose which drive will be the master in the array. Press ENTER to begin, then press ENTER again to select each drive.
If you are creating a mirror, the first drive you choose will be the master drive and the second will be the mirrored drive. Once you have chosen both, you will be asked whether you wish to duplicate the master drive to the mirror drive now, or simply create the mirror without copying data. Assuming you are using two blank drives, choose the latter option.
For the third item 'block size' accept the default value.
Press ENTER on the fourth item 'start creation process' to create your array. Once you are back to the main menu, press ESC to exit. Your system will reboot.
Initializing and installing (both controllers)
Once Windows loads back up, go to the disk management window. You should be prompted to initialize a new disk. You must do this before Windows XP can access your RAID array. Once you have initialized it, you can right click on the new disk in the disk management lower pane to create a new volume on it and format it in the normal way. You can now use your new RAID volume just like any other drive on your system. As far as windows is concerned, the two disks in your array are one.
Using a hardware RAID array as your system drive
Unlike software RAID arrays, it is actually possible to install Windows or other operating systems onto a hardware array. In the case of Windows, this requires that you have the necessary drivers for your RAID controller on a floppy disk. All hardware controllers should come with this disk; it's the only time you will ever see a driver on a floppy disk these days!
Note that you must have already set up your RAID array through the controller before you attempt to install Windows. Right at the start of the automatic install process for Windows 2000 or XP, as soon as the blue screen appears, you will see a prompt at the bottom of the screen asking you to "Press F6 if you need to install a third party SCSI or RAID driver..."Press F6. Nothing will visibly happen, but after the installation files are copied from the CD, you will see an extra screen for the loading of storage device drivers.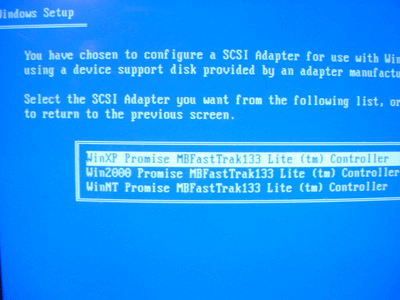 Press 'S' to 'specify an additional device.' You will be prompted to "Please insert the disk labeled Manufacturer-supplied hardware support disk into Drive A:"
Do so and hit enter. After reading the disk, the correct driver for your controller should be shown on screen. Select it and press enter, then enter again to confirm the choice. Windows will then continue to install as normal. And I bet you thought it would be difficult didn't you? Next up, tests to show you just what RAID can do in the performance corner.