Anyway, here are my systems spec's should someone try to reproduce my results.
PCstats Test System Specs:
Computer:
Athlon 1.0 GHz AYHJA Y at 1.59 GHz (9.5x168 MHz)
Iwill KK266-R Ver 1.2 BIOS May 15/2001
Apacer 256 MB PC-100 Ram 2-2-3-6
30 GB IBM DeskStar 75 GXP
Software:
Windows 98 SE
DirectX 8.0
Via 4in1 4.33V Beta
DetonatorXP 21.81
ATi Radeon 7115 Beta
Test Cards:
PowerColor PowerGene MX (GeForce2 MX400 175/???)
Creative Labs Annihilator Pro (GeForce DDR 120/300)
ATI Radeon 64MB VIVO Retail (Radeon 183/386)
MSI StarForce 822 (GeForce 3 200/460)
Benchmarks:
3DMark2000 Ver 1.1
3DMark2001
MDK2
Quake III Arena 1.17
DroneZ
Serious Sam 1.02 (Fill Rate benchmark only both 16-bit and 32-bit colour)
Let's see what 3DMark2000 thinks...
Well according to 3DMark2000, the MX400 scales pretty well compared to it's older brother the GeForce DDR and ATI's Radeon. However, it's no where close to the GeForce 3. Let's take a look at something a little newer.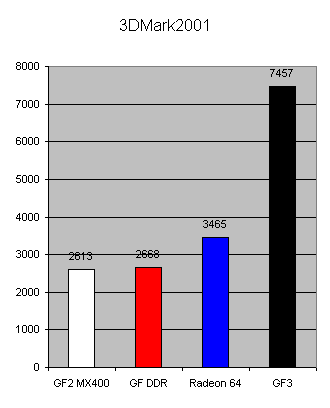 3DMark2001 is a better indicator of things to come... More and more games coming out will be DX8 compliant.