PowerColor PowerGene MX Review
---
nVidia's EXTREMELY successful GeForce2 MX line of GPU's has almost monopolized the low to mid-end videocard market to the point where I'm surprised they don't have an antitrust lawsuit against them. With a setup like that, what's one more addition to the mix in the most cut throat segment of the computer industry?
Well for one, PowerColor's PowerGene MX (model: CMX2A, GeForce2 MX400 with 64 MB SDRAM) is just such an offering.
PowerColor has always produced low cost videocards. Their PowerGene MX (CMX2A) doesn't do anything to break that trend either. Retailing for about $20-30 less then other MX400-based video cards, let alone MX400 cards with 64 MB of RAM it's an easy sell for most consumers.

Buying a cheap video card (don't try and play it up with "inexpensive") usually means getting cheap and nasty parts. Remarkably that's not the case with PowerGene. nVidia's reference design calls for 6 ns RAM modules to be used with the MX400 GPU and PowerColor took this memory requirement one step further by implementing extra quick 5ns Mosel Vitalic SDRAM. They skimped on the GPU fansink, but we'll let that one go since the MX core isn't much of a fireplace. And yes, they even took the effort to cover the GPU with thermal paste - it's the little touches right!?
Upon removal of the paste, nVidia's MX400 GPU is revealed in all its BGA glory.
Below is a graph that I always use in my MX reviews, it shows the difference between the MX line of cards. Here's an interesting side note. PowerColor has decided to clock their MX400 in the PowerGene only at 175 MHz instead of the usual 200 MHz. It's not really known why they did this, however it's not really that big of an issue since the whole GeForce2 line of cards are memory bandwidth limited.
| | | |
| --- | --- | --- |
| GeForce 2 MX | GeForce 2 MX200 | GeForce 2 MX400 |
| .18m | .18m | .18m |
| 175 MHz Core | 175 MHz Core | 200 MHz Core |
| 166 MHz Mem | 166 MHz Mem | 166 MHz Mem |
| 128bit SDR/64bit DDR | 64bit SDR | 128bit SDR/64bit DDR |
| 32MB/64MB | 32MB/64MB | 32MB/64MB |
| 2.7 GB/s bandwidth | 1.35 GB/s bandwidth | 2.7 GB/s bandwidth |
| 350 MPixel/s | 350 MPixel/s | 400 MPixel/s |
| 700 MTexel/s | 700 MTexel/s | 800 MTexel/s |
Here's how NVMax identified the card's clock speed.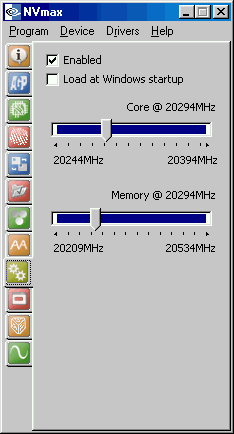 Damn, that's one fast MX400 card - 20534 MHz or 20.3 GHz!
For fun, I tried booting into windows at that speed and to my surprise, I didn't have one problem! No artifacts, no lockups. This seems to be an issue more with nVidia's DetonatorXP drivers then the NVMax program itself. Using the "coolbits" registry hack, the drivers incorrectly identified the clock speed of the card. I tried several 3rd party software overclockering utilities, Power Strip, Riva Tuner, GeForce Tweak Utility and of course NVMax but to no avail. Not one program would let me overclock the card!