Albatron FX5900XTV Videocard Review
---
When you look back at it, it's amazing how far Albatron has come in such a short time. True, the company has technically been around since 1984 under the name MonoVision, and "Albatron" only came about after the then CEO of Gigabyte left to build a new company. With an Albatross as their icon, Albatron have been manufacturing motherboards and videocards since the 2002, quickly earning a good name for themselves amongst computer enthusiasts and general users alike.
With the dawn of the PCI-Express videocard very quickly approaching, there has been much movement in graphics cards circles to end on a high note. The best example of this is the GeForceFX 5900XT GPU, which comes to us from Albatron in the form of the FX5900XTV video card.
Mirroring many other FX5900XT implementations, the Albatron FX5900XTV comes backed by 128MB of DDR RAM. It supports VIVO thanks to the Philips SAA7114H chipset, and comes with the traditional VIVO break out box and S-Video cable so you can hook your PC up to a television. Along with the 8XAGP card is an assortment of software - PowerDirector, PowerDVD, Duke Nukem Manhattan Project and a five game demo CD - a Composite cable, and DVI-to-analog converter.

Albatron FX5900XTV



Includes:

Users Manual, Driver CD, PowerDirector, PowerDVD, Duke Nukem MP, S-Video Cable, Composite Cable, VIVO Break Out Box, DVI to Analog Converter
The Albatron FX5900XTV is based on the standard nVIDIA FX5900 PCB reference design, albeit with a custom copper heatsink and classy blue colour. The copper-based heatsink runs nice and quiet; probably one of the quietest we've heard in fact. The tiny BGA DDR chips are passively cooled with some extruded aluminum heatsinks which are attached with a little frag tape.
As you browse through the computer shops you've probably notice that most videocards come bundled with a TV-Out or VIVO connector, but only a few tend to come bundled with all the necessary cables connectors to take full advantage of these handy features.
Overclocking Results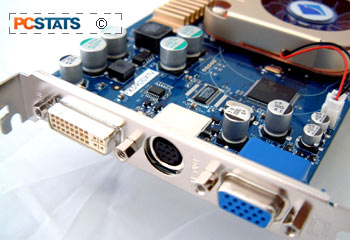 Even at stock speeds the Albatron FX5900XTV is a pretty fast videocard... but who this day ever settles for stock speeds? ;-)
As we began the core overclocking, we were surprised to find the Albatron FX5900XTV's core was clocked at 390 MHz, not the 400 MHz of the MSI FX5900XT-VTD128!
Starting at 390 MHz we immediately raised the core speed to 450 MHz, the same speed the GeForceFX 5900 Ultra is clocked at. Not surprisingly the FX5900XTV had no problems running at that speed. Next up was 475 MHz, or GeForceFX 5950 Ultra core speed. The Albatron FX5900XTV didn't quite have enough to run at that speed though... it would pause momentarily while the benchmarks were being run, indicating it was a little out of its element. In the end we settled for a very nice core speed of 468 MHz.
Next up are the memory overclocking tests, and since the DDR is clocked at 700 MHz, we inched up a few MHz at a time to start with. The FX5900XTV passed 720.... 730....740MHz quite easily, before maxing out at 780 MHz. Definitely not bad for mainstream videocard!
Once we know how high the core and memory will go individually, we try to run them overclocked together. Usually, the core or the memory will have to be lowered to get the card into a comfortably overclocked area. Like most GeForceFX-class videocards we've tested the FX5900XTV would not stably run with both core and memory overclocked to their max. However, once we lowered the memory speed from 780 to 768 MHz everything went smoothly.

PCStats Test System Specs:
processor:

intel pentium 4 3.0c

clock speed:
15 x 200 mhz = 3.0 ghz
motherboards:

gigabyte 8knxp, i875p

videocard:

ati radeon 9800xt
ati radeon 9800 pro
ati radeon 9700 pro
asus radeon 9600xt
msi fx5950 ultra-vtd256
msi fx5900u-vtd256
msi fx5900xt-vtd128
gigabyte gv-nv57u128d
msi fx5900xt-vtd128
albatron fx5900xtv

memory:

2x 256mb corsair twinx 3200ll

hard drive:
40gb wd special ed
cdrom:
nec 52x cd-rom
powersupply:
vantec stealth 470w
software setup

windowsxp build 2600
intel inf 5.02.1012
catalyst 3.9
detonator 53.03

workstation benchmarks

3dmark2001se
codecreatures
aquamark
aquamark3
gun metal 2
x2 the threat
ut2003

aa test, af and aa+af test
3dmark2001se
x2 the threat
ut2003