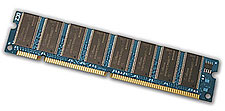 While yes SDR technology is getting old, with sticks of memory like this, it can easily give life to older overclocked computers. Depending on the other bits and pieces in a system it can even potentially compete with DDR setups!
The best things in life are free, or so that's the saying, and this 256MB OCZ ICE PC150 memory is amazing! The scores at 150 MHz bus are very respectable, but when clocked at 170 MHz, it's just insane.
Thanks to this memory, I can now postpone my DDR purchases to an even later date. I can easily recommend this to anyone who's still using a SDR board that wants something faster without going over to DDR just yet. OCZ has really done well with this memory and I must say "good job!"