Soltek 75KV2 KT133 Motherboard Review
---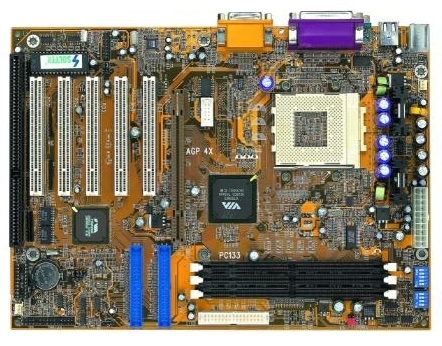 The fruits brought forth from AMD's newest line of processors, namely the Duron and the "Thunderbird", not only delivered excellent performance at a very low price, but also boasted of a tremendous potential for overclocking.
Since the release of these two chips, various benchmarks across the web praise this "dynamic duo" for their ability to overclock at speeds of 50% 60% (and at times more) over the manufacturers rated specification. Thanks to a manual CPU multiplier adjustment present on select motherboards, overclockers have been no less than delighted at what these two processors can accomplish.

However in the initial period prior to the launch of the Duron and "Thunderbird", looking for a motherboard which sports such a multiplier adjustment was rather difficult. Board makers were hesitant as they did not want to provide for any "accidental" damage that overclocking may cause.
However, slowly but surely, main board manufacturers began to incorporate this feature onto their products as a rather substantial demand for it was introduced.

Naturally, Soltek responded by releasing the answer to an overclocker's desire the Soltek 75KV2 X. The KV2 X is the latest model of their already well established Socket A based line of motherboards which started with their Soltek 75KV. Interestingly enough, the phrase "same... yet different" applies very well to Soltek's first Socket A board and the one under scrutiny in this review.

And though the two boards are indeed quite similar, there are three significant additions on the 75KV2 X which were left out on the original 75KV. Let's take a look at the specs and see.

Features & Specifications

Based upon the VIA Apollo Pro KT133 chipset
694X Northbridge + 686B Southbridge
Support for ATA/100 Support for AGP 4X and AGP Pro cards
3 x 168 pin 3.3V DIMM sockets
5 PCI / 1 ISA / 1 AGP Pro slot(s)
Manual DIP switch adjustments for Vio and multiplier adjustments
ATX Form Factor (220mm x 305mm)
2 + 2 USB ports
Support for Vcore adjustments in BIOS
Integrated AC97 Audio CODEC
Hardware Monitoring
Equipped with VD Tech (Voice Diagnosis Technology)

The 75KV2 X is one of the first motherboards released in the world with the substitution of the 686A Southbridge for the newer 686B revision. The primary difference between the two chips is the addition of ATA/100 support in the "686B". Aside from that change, both chips are pretty much one and the same.

As with the earlier Soltek Socket A boards, this one also comes with an AGP Pro slot.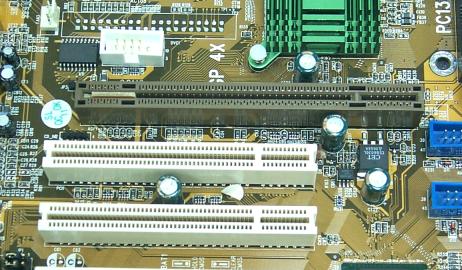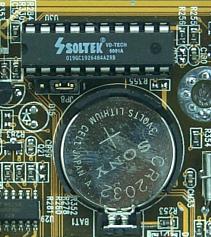 VD Tech

As board makers are focusing more upon entry level DIYers, adding a bit of simplicity in terms of usage and installation is very much called for. With this in mind, Soltek devised a rather unique way of diagnosing a number of installation errors. VD Tech, or Voice Diagnosis Technology, is designed to playback a predefined error message (depending on the nature of the error) through a voice in 4 different languages (English, Chinese, Spanish and Japanese). You can select toggle the language through a set of on board jumpers. In case you do commit an error on installation, the following error messages will be presented on bootup...

1. "No memory module"
2. "Please check memory module"
3. "Please clear CMOS setting"
4. "Please check the video adapter"
5. "Please check hard disk cable or setting"

As you can see, these are rather basic messages and experienced assemblers probably will not need them. However, for beginners, VD Tech is more of a useful tool than a luxury.



Soltek's decision to include a wonderful software package is certainly welcome. With the 75KV2 X comes bundled Norton Ghost, Norton Antivirus 2000 and a copy of Winfax which makes for a rather decent mix of useful software. In addition, Soltek has included 2 additional USB inputs which are designed to occupy a single cabinet slot. Not wanting to overlook even the smallest details, Soltek has also added a thermal sensor to the bundle. All in all, the extra goodies do make for a good package overall.