Where overclocking was concerned, I was quite impressed with how high this board could go. Using a 256MB stick of OCZ PC2400 DDR, I totally maxed out the board - 164MHz with everything at the most aggressive settings! Wow, that's quite a feat! It's almost a shame that the bus speed only tops out at 164 MHz. Needless to say, the results are quite impressive at that FSB.
Test System Specs:
Computer:
Athlon 1.4 GHz "AYHJA" Y
MSI K7T266Pro2-Ru
OCZ 256 MB PC2400
MSI StarForce 822 (GeForce3 200/460)
SB Live! Platinum 5.1
Software:
Windows 98SE
Via 4in1 4.35V
DetonatorXP 21.83
Benchmarks:

SiSoft Sandra 2001TE
Business Winstone 2001
Content Creation 2001
3DMark2000 Ver 1.1
3DMark2001
Quake III Arena Ver 1.17
As mentioned before, I did try to use a AthlonXP1800+ to benchmark, however, I had quite a bit of stability problems. It's also possible that this could be due to the fact that I was using a beta board. Just something to keep in mind.
SiSoft Sandra 2001TE: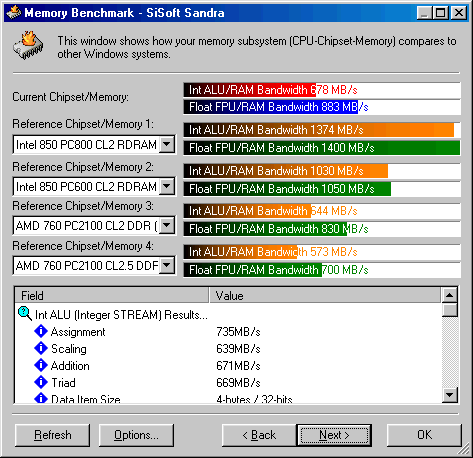 133 MHz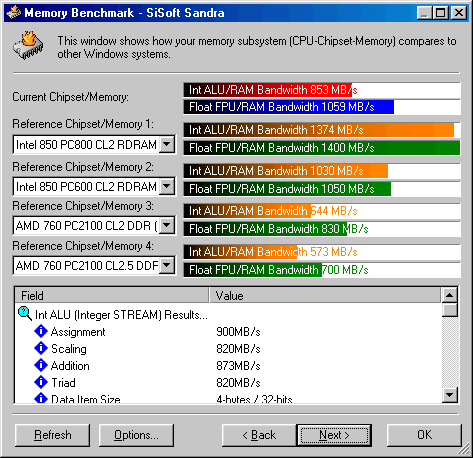 164 MHz
At stock, the MSI is performing JUST a little better then the reference AMD 760 board, however when it's overclocked, it approaches the bandwidth of PC600 RDRAM! Just a side note, when I used the XP processor at 1.72 GHz on a 164 MHz bus my bandwidth was close to 950/1150! Anyway, compared to the older KT266 chipset, it's obvious to see that the memory controller was tweaked quite a bit!