Quake III Arena: demo001

Setting:
Score:
133 MHz
210.5 fps
164 MHz
234.2 fps
Quake III Arena: nv15demo

Setting:
Score:
133 MHz
61.2 fps
164 MHz
67.3 fps
Quake III is notorious for loving high bus speeds/high memory bandwidth, and here, the higher bus speeds let's crank up the resolution a bit to see what happens.
Quake III Arena:Max 1024x768 demo001

Setting:
Score:
133 MHz

185.8 fps

164 MHz
203.1 fps
Quake III Arena: Max 1024x768 nv15demo

Setting:
Score:
133 MHz
47.3 fps
164 MHz
51.4 fps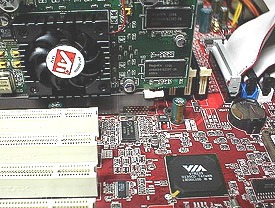 Again, as we crank up the resolution, we see the same trend continuing. I didn't benchmark any higher, because the video card would become the bottleneck then.
So what can we conclude about the MSI K7T266Pro2-RU motherboard? Well, put rather simply, it rocks!
Utilizing VIA's new KT266A chipset, it's obvious here that MSI can have a winner. Can being the key word. A few things they have to improve/fix first though, mainly this reboot problem (I can confirm this happens on retail boards too) and if they could release a BIOS that had more bus speed adjustments it would be surely be a "kick ass" product.
Overall, I must say I was quite please with the results of the K7T266Pro2. Obviously, VIA should have released this chipset instead of the original KT266, but at least it's better late then never.
If MSI can fix those few problems we mentioned above they'll surely they will have a very, very attractive mainboard solution. Heck, no one usually offers better value than MSI anyway!