OCZ CL2 PC2400 DDR Review
---
When I recently swapped out my Athlon 1.4 GHz chip for one of the new AthlonXP 1800+ CPU's, I was expecting more of a speed increase then what I did get. No biggie, after all, the XP is really only 133 MHz higher then my old chip. Little did I know, AXP's really need a DDR setup!

While reviewing the MSI K7T266Pro2-Ru and using my AXP1800+, the performance gain was quite incredible! Anyway, I'm concluding that equipping an AXP CPU with a SDR setup is ALMOST (but not quite) as bad as using a P4 and SDRAM.

Because of the K7T266Pro2's lack of bus speed, I decided to use the EpoX 8KHA+ (based on the KT266A chipset too) and I must say, OCZ again, blew me away.
Right off the bat, I upped the bus speed to 150MHz at the most aggressive setting and no problem!
Then instead of being a good overclocker and going up slowly, I jumped to 160MHz. Again, not one single problem!
So I made the jump right to 170 MHz. Great, everything was so sweet. I also tried 175 MHz (I know I was pushing it) but got no POST. I didn't think it would do 175MHz… Anyway, backing it down slowly, I went back to 170MHz. It seemed stable and it did pass a whole night of Q3 loops with Prime95 running in the background. 20MHz higher then rated, that's very good considering that it was already certified to run at 150MHz!
Test System Specs:
Computer:
AthlonXP 1800+ (1.53 GHz clocked at around 1.65 GHz for testing)
EpoX 8KHA+ (Via KT266A)
256 MB OCZ PC2400 DDR Ram
MSI GeForce3 200/460
SB Live! Platinum 5.1
30 GB IBM DeskStar 75GXP
Software:
Windows XP Pro (for the Sandra bench only)
Windows 98 SE
DirectX 8.0
Via 4in1 4.35V
DetonatorXP 22.50
Benchmarks:

SiSoft Sandra 2001TE
3DMark2000 Ver 1.1
3DMark2001
MDK2
Quake III Arena Ver 1.17
Return to Castle Wolfenstien MP Test
We've recently decided to add RTCW to our slew of benchmarks. Being based on the Q3 engine, it's quite interesting that it can be so different in terms of benchmarking.
SiSoft Sandra 2001TE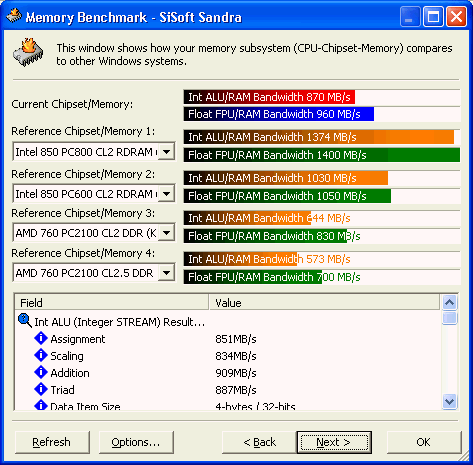 150 MHz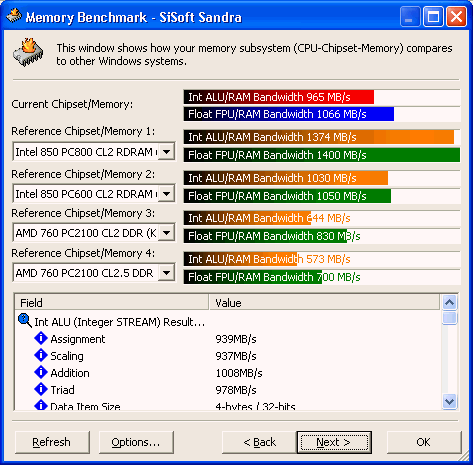 170 MHz
As we can see, raising the bus speed gives quite a fair increase to memory bandwidth. Of course, it's expected that the Pentium 4's dominate this benchmark with their dual channel Rambus setup. Now let's see if this bandwidth can be taken advantage of 3DMark2000 Ver 1.1.