HP Photosmart P1100 Printer Review
---
Back when personal computers were still a "novelty" item in the 1980's, it was often believed that computers would usher in a new era of the paperless office. Rather than work with reams and reams of paper, we would work with the data in a digital fashion. While this did seem like a good idea at the time, the amount of paper still present in today's busy offices (and homes) suggests otherwise. If anything, the computer has prompted us to use more paper instead of less.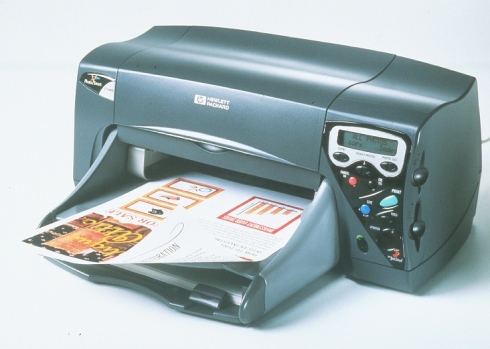 Currently, there are three major types of printers on the market: dot matrix, laser, and inkjet. Dot matrix printers, while becoming scarcer as time goes on, are still often used for information that must be presented in continuous fed pages, such as forms as well as their impact ability which allows for carbon copies to be produced.

Laser printers are widely used in offices due to their low cost per page, razor sharp text quality, and breakneck speeds. Inkjets, while often slower and more expensive on a per page basis than lasers, do have one major advantage: color.

All inkjets currently on the market support color printing, yet a color laser still costs into the thousands of dollars. While color lasers are great for sharing in a workgroup setting, inkjets are definitely the way to go for consumers.

Lately, inkjet printers have been doing more than printing the odd color document. With the recent surge of digital camera sales, many inkjet manufacturers have started offering printers catered towards digital imaging. These printers typically have extremely high resolution (often 1440 dots per inch or higher), and may even contain memory slots for direct printing from a digital camera's Compact flash or Smartmedia card.

One such printer is the Hewlett Packard Photosmart P1100. With a suggested price of $399 US, it is clearly targeted towards the digital photography market, as we will soon discover.

Features & Specifications

Print Speed (black): 4.7 ppm
Print Speed (color): 3.1 ppm
Duty cycle: 5,000
Paper Trays: 1 x Letter size, 1 x 4" x 6"
8MB on board memory
Compact flash, Smartmedia compatible
IEEE 1284 compliant bidirectional parallel, USB (Windows 98 only)
Maximum resolution of up to 2400 x 1200 dpi (HP PhotoREt III)
2 print cartridges. One each for color and black.
Media Types: Paper (plain, inkjet, photo, and banner), envelopes, transparencies, labels, cards (index, greeting), iron on transfers

A few features not often found on inkjet printers are the infrared ports and the duplexer. The infrared port allows wireless printing from a compatible PDA, notebook, or other IR equipped device. Finally, we are seeing a use for those infrared ports although it's possible this may be short lived. For those who have watched the market for quite some time, infrared is something that hasn't caught on for many people. Whether it was the lack of IR equipped devices, or the often troublesome configuration of IR on notebooks, many people have stuck with traditional parallel or USB cables for connectivity. Even still, it's nice to see HP taking a step in the right direction here, and perhaps we may see more opportunities to use this port for wireless printing.

The duplexer, long a staple of high end workgroup laser printers, is definitely a major surprise on an inkjet printer as well. When attached to the Photosmart P1100, it enables automatic double sided printing. For those who often print booklets or other two sided materials, this feature alone saves quite a bit of time.

With other printers, one must print half the pages, flip the paper around, then proceed to print the remaining pages. For those who don't require this function however, HP offers the Photosmart P1000 printer (a slightly slower version of the P1100 lacking the duplexer). The duplexer does add a bit of space to the back of the printer, but for most users, this shouldn't be a problem at all. In addition, the duplexer also works with some of HP's other inkjets such as the aforementioned P1000 and the Deskjet 900 series printers as well (HP offers this on their website for $79 US).

The print cartridges used with the P1100 are available for $29.99 (Black) and $33.99 (standard capacity color) / $54.99 (high capacity color). While fairly expensive cartridges, they do provide extremely high yields. Black is rated for 833 pages at 5% coverage (essentially, a page of double spaced typewritten text), while the standard color cartridge should last around 450 pages at 15% coverage (typical coverage in a mixed text/graphics page. Although you may run out of a single color before printing 400+ pages, it is still one of the highest capacity cartridges available in any inkjet today.