Soyo 7VMA PM 133 Motherboard Review
---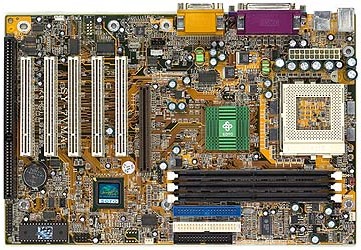 VIA has recently entered the integrated mainboard chipset market with the release of the VIA PM 133, a Socket 370 based chipset. This chipset is essentially a combination of the VIA Apollo 133A chipset coupled with the S3 Savage 2000 2D core and S3's Savage4 3D core.
Since the PM 133 provides for an integrated video solution, it is quite attractive for OEMs and system builders as the additional cost of a third party video card is eliminated. And as you may have guessed, the PM 133 is VIA's alternative to Intel's i815/i815E.

In this review, we will be paying close attention to one particular PM 133 based solution from Soyo the Soyo 7VMA.
Voice Doctor

Thanks to the flexibility of VIA chipset design, the PM 133 can be paired with either VIA's older ATA 66 southbridge, the 686A, or with the newer 686B which incorporates support for ATA 100 (the Soyo 7VMA B is based on the PM 133 & 686B). Soyo Europe was kind enough to provide us with an early 7VMA test sample, which featured the older 686A (ATA 66) southbridge.

First Impressions

The Soyo 7VMA package features the following material...

The board itself
One ATA 66 cable & FDD cable
One CD with motherboard drivers, including a full version of the manual in PDF format and a system monitoring utility.
A photocopy of the manual (retail version has the original manual)
A CD containing full versions of Symantec Norton Antivirus, Norton Ghost & Norton Virtual Drive

Starting off, we were delighted to see the 7VMA layout to be extremely clean and the components to be easily accessible. It appears that everything is placed exactly where it should be. The FDD and HDD ports are placed next to the DIMM sockets and memory can be installed or uninstalled without having to remove the AGP video card. This board does not seem to create any expansion problems when installed on smaller ATX cases. The VIA northbridge sports a heatsink attached with thermal paste. There are 2 x 2200µF, 5 x 1500µF, 15 x 1000µF & 4 x 470µF capacitors present on the Soyo 7VMA.
Once installed, the board automatically detects the CPU type as well as its FSB. One feature that we have seen a lot of these days is "voice diagnosis". Soyo's version of this features is dubbed as "Voice Doctor". Voice Doctor is a handy little feature which informs the user (in English or Chinese through the system's PC speaker) in case of a serious system failure or incorrect hardware installation. Essentially, this feature is included as a simple means to alert the user of common hardware setup problems. Though experienced assemblers may not require it, it is certainly a rather pleasant feature to have.

Windows 98 installation was a snap and all the necessary drivers were easily installed. However, we did notice a slight problem. When enabling the HCLK +33MHz BIOS memory option, the system would run rather unstable although the memory bus speed was much within our SDRAM module's specification. We tried two different types & brands of SDRAM modules but the problem was not resolved.

Test Bed Setup

OEM Intel Celeron 566MHz FCPGA
Tested boards: DFI CS65 SC (Intel 815), Soyo 6BA+IV (Intel BX), Soyo 7VMA (VIA PM133), DFI CA64 EC (VIA Apollo Pro 133A with ATA 100 support)
128 MB PC 100 CAS 2 SDRAM
3dfx Voodoo5 5500 AGP
Western Digital 30GB ATA/66 HDD, 5400 RPM
Orchid Nusound 3D (Aureal Vortex 1 sound card)
NEC 5500A DVD ROM (8x/40x)

The memory speed on the Soyo 6BA+IV was set at 66MHz as the Intel BX chipset does not provide support for asynchronous memory/CPU FSB speeds. As mentioned earlier, the Soyo 7VMA was unstable when we used the HCLK +33MHZ (100MHz) BIOS memory option.

All BIOS settings were tweaked for maximum performance on all of the tested boards. On all of the tests we used the Orchid Nusound PCI soundcard for audio output instead of the integrated AC97 CODEC (unless noted otherwise).