ProLink PixelView GF2MX Twin Review
---
With the value video card segment of the market completely saturated with nVidia's GeForce2 MX line of cards, it's solely up to the manufacturer to differentiate themselves from the others.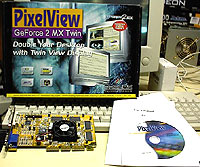 We looked at Prolink's GeForce2 Ti a little while earlier and were generally satisfied with what they offered. Today, we're looking at Prolink's GeForce2 MX400 Twin video card.
The main aspect that differentiates this card from others is the support for twin displays thanks to a second DVI head. If you happen to have two analog displays there is a variant of this card that features twin D-sub ports instead of the current, D-sub and DVI headers.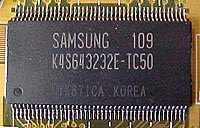 The Pixelview comes in very plain packaging along with driver CD, a lightweight manual and a very interesting test report. Apparently my card was QC checked by a Mr. Steven Chou. The test report outlines the system he used to test the card, what benchmarks he used, and their results. That's kind of cool.
Where the PixelView GeForce2 MX Twin really shines is with its dual display! Well sort of, the the second header is a DVI connector which is good for LCD monitors, however CRT's still use the regular 15 pin analog connector. The absence of a DVI to analog converter doesn't help much and since it's almost impossible to buy a 3rd party one it kind of defeats the purpose of having dual display. The maximum resolution the card is capable of is 2048x1536 @75Hz but it supports independent resolutions and refresh rates should you have different sized displays. Twin view supports multi-display, zoom and clone functionalities.
Another thing, I thought all DVI connectors were universal, I did have one that came with my Radeon8500, however it didn't fit so I wasn't able to test a dual display setup. On the oh-so important memory front, the card came equipped with 5ns Samsung SDRAM. Hopefully, this memory should help in my overclocking adventures!
I was quite pleased to see thermal material between the MX400 GPU and the heatsink/fan. As for overclocking, I was able to hit 241/245 which isn't a bad overclock from the stock 200/183 MHz. Yes, I said 183 MHz ram speed, that's already 17 MHz higher then most other MX400's! IF the card were mine though, I probably would have added ramsinks and clock the memory a little higher.