Cisco's Internetworking Basics
When was the last time you thought; "Interior Gateway Routing Protocol (IGRP) is a good routing protocol that provides a robust protocol for routing within an autonomous system having an arbitrarily complex topology, and consisting of media with diverse bandwidth and delay characteristics. But is this really what we need to use?"
I know these kinds of questions plague us everyday here so we were thankfully able to pop in a copy of Cisco's Internetworking Basics and teach ourselves the skinny on IGRP. Informed decisions are the lifeblood of networks that actually work as we all know.
While the abundance of self promotion in the Cisco Interactive Mentor CD-ROM gets stale very quickly, the underlying information is absolutely helpful for new or novice users finding themselves interacting more and more with hard core networking guys and gals.
The Details
The Interactive Mentor is an HTML based tutorial separated into five sections that is full of explanations, graphs, and little movie clips that walk you through labs and exercises as you learn. Internetworking Basics deals with five main topics; Introduction to Cisco Networking, Routed Protocols, Routing Protocols and Access Lists, LAN Switching, and finally Wide Area Network Access.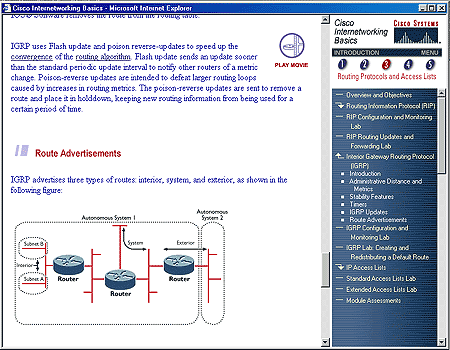 The program proved itself valuable for learning the utter basics of internetworking and is designed essentially for CCNA certification. This materials cover IOS command line interface, TCP/IP and Cisco routing concepts, routing protocols, access lists, LAN switching, and Wide Area Network access. As we mentioned each area is delt with in one of five modules that contain several interactive features - so you don't find yourself just mindlessly reading page after page of text and technical specifications. The modules contain interactive tutorials that put you in the role of a network administrator. The software allows you to interact with the interface for all configuration and challenge labs. In this way, users can configuring virtual network devices and make the mistakes that would otherwise bring down networks.
All in all a very useful tool for the road to advanced networking concepts, knowledge and applications. While this material assumes almost know previous knowledge, it is rather easy to move forward with it onto more advanced topics.