The system in this review will be viewed from the gaming perspective. Going head to head against the the newly announced Athlon XP 2000+ will be the venerable Pentium4 2.0GHz.
We'll have some basic overall system performance benchmarks for you to check out and then we'll move into more gaming-specific measures of pure performance. We also recommend that you also check out the Athlon XP 2000+ Workstation Review which will be covering more intensive sets of benchmarks shortly.
The XP2000+ System: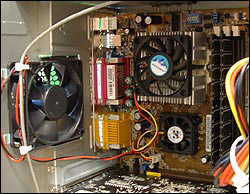 The XP 2000+ system came to us fully configured in a nice mid-tower case with space for a rear exhaust fan and packing up to four HDD bays (that involves nixing the FDD).
The standard OEM power supply had been replaced with a 400W Antec to meet the Athlon XP's higher power requirements.
Curiously, a generic FoxConn heatsink was installed on the Athlon XP 2000+ processor. The heatsink (exact model number unknown) made use of a chrome plated copper slug screwed on to the base of the aluminum extrusion in an attempt to boost performance.
With the small fan that the heatsink came equipped with, average core temperatures hovered around 50-60 degrees Celsius. Noise however, was not an issue.
AMD chips are known for their high temperatures, so it was not unexpected to see that the case had also been outfitted with an 80mm exhaust fan. The Althon XP 2000+ has a maximum listed die temperature of 90 degrees.
Motherboard: Asus A7V266-E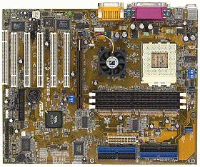 Asus are known throughout both the motherboard and video card markets as makers of high performing components. So it is no surprising to see the Asus A7V266-E as the backbone of the XP 2000+ system. The A7V266-E is based on the KT266A chipset and supports PC2100 DDRAM - a mainstay of today's Athlon solutions - among several other substantial feature-sets. The mainboard has three DIMMS, five PCI slots, one AGP, and one ACR slot.
Although case modders will be disappointed to see a plain brown PCB on the A7V266-E motherboard, the unit does pack some other very good points. Most notably is the C-Media CMI8738 audio controller which provides up to 6-Channels of on board audio - something that complements the 16X DVD drive (Pioneer DVD-500M) in the XP 2000+ system perfectly. Naturally, purists will want to drop in an Audigy or a Acoustic Edge sound card.
The board also features RAID 0 which basically makes one big drive out of two smaller drives. What RAID 0 does is increase data transfer by about twice and decreases latency by about half (when implemented). It's especially useful for people who do a lot of streaming media, as it will give them a very fast hard drive sub system. However, RAID 0 is really not a RAID at all because there is no data redundancy. If one of the drives fails, all data can be lost.
Gamers usually love to overclock but workstation users are a little more conservative so it's nice to see that if the user wants to tweak the system to run a bit higher, produce faster 3DMark2001 scores, or just faster frame rates, the BIOS can accommodate. The A7V266-E features Jumper Free clock and multiplier settings (5X-14X and 100/33 to 227/57). Vcore can be adjusted to 1.850V, PCI frequency to 100:133, and VIO memory voltage tweaked as well.