iCute4 420 Watt Aluminum Power Supply Review
---
It says a lot when even the workhorse of the computer world becomes an outlet for designer components. As they say in the movies, first there was the aluminum case, and now we have an aluminum power supply. Putting the obvious allusion to the Intel Pentium 4 name and colours aside, the iCute4 is a flashy unit that will either draw Ahhh's of approval or disdain for tackiness.
Like gold plated heatsinks the shiny Aluminum I-Cute is right for a certain kind of style conscious user. Case modders and users with aluminum cases will probably appreciate the flashy little cube more than anyone else. Make no mistake, aside from the external appearance and quality of components inside the power supply, there really is no benefit or loss from using an aluminum cased power supply.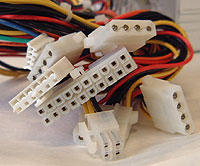 Composed of four extruded aluminum sections, the main body of the power supply looks great, but the end caps seem to remind me of cheap OEM heatsinks, all rough and such. The power supply uses two totally transparent 80mm fans arranged axially in an intake and exhaust configuration. Oddly the intake fan sits on the outside of the case, perhaps hinting at a savings in material for the manufacturer. Both fans have nice wire grills protecting them from errant wires or fingers. Both fans draw 0.19A and are made by an unknown manufacturer called Yate Loon. Quality and lifespan are anyone's guess, but the fans are pretty quiet in operation.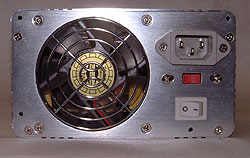 While the power supply could be the perfect addition to any Lian Li case, thereby completing that all-aluminum look so in "fashion" these days, there is one major issue with the power connectors. Most of us are familiar with Enermax and their line of power supplies, and for the price that Enermax PSU's retail for we honestly get a lot of power connectors.
The iCute4 skimps on the connectors but offers a maximum listed power output of 420W. Given that there are only (4) Molex connectors and (1) FDD connector I find it hard to believe that anyone would ever really be capable of using that much juice.
The power supply is Pentium 4 compliant so in addition to the ATX power connector, there is also a legacy AT power connector and a four lead supplemental 12V power drop. None of the connectors are gold plated but the lead wires are a nice length of about 21".
Barring some rather fancy equipment, we chose to test out the power supply on a P4 system (2GHz @2.16GHz on MSI 845 Ultra motherboard) and record the power levels of the ATX power tap with the system running in an overclocked state.
| | | | | | |
| --- | --- | --- | --- | --- | --- |
| Listed Voltages | AMP's | Lower Voltage | Upper Voltage | Jitter | |
| 3.3v | 28A | 3.28v | 3.296v | 0.016v | |
| +5.0v | 40A | 5.195v | 5.223v | 0.028v | |
| +12v | 18A | 11.619v | 11.680v | 0.061v | |
| -12v | 1.0A | -11.989v | -12.07v | 0.081v | |
| -5.0 | 1.0A | -5.077v | -5.127v | 0.050v | |
| +5.0sb | 3.0A | 4.993v | 5.010v | 0.017A | |
Ideally, the power levels should be quite close to, or almost exactly on the listed voltages for best stability, and not too range wildly. The numbers speak for themselves, and illustrate the variances in the power supply from the Icute 4. This is by no means a "perfect" way to evaluate a power supply, so if you have any suggestions on how to better test this PSU, please let us know.




Contents of Article: Thermal Integration iCute4

---