Corsair XMS PC2400 DDR RAM Review
---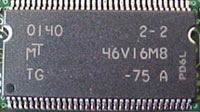 Ever since the GeForce DDR came out to alleviate the G256's memory bottlenecks it was obvious DDR's destiny was to take over the world.
When DDR was initially released things didn't look too great for it if you remember. In its infancy, when DDR was first making its way into standard PC's, big bad Rambus was suing everyone for patent infringements. With the Pentium 4 originally only supporting RDRAM, DDR's future looked bleak.
Well, that was about 1-2 years ago and now things are totally different. Rambus lost the major court battles, and DDR is starting to show up even in OEM computers - it's easy to see it as true the successor to SDR RAM.
Corsair Micro has been around since 1994 and has been producing some really great RAM for a while now. Today we're going to take a look at their XMS (eXtreme Memory Speed) PC2400 DDR. Using Micron Technologies DRAM with a CAS latency of 2 by SPD, t's probably some of the best DDR on the market right now for enthusiasts to consider using.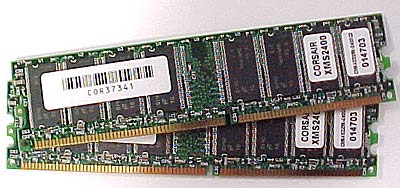 You can usually tell quality memory by it's CAS latency. This by no means the be and end off of good vs. better memory, but generally the higher quality RAM runss faster. In the case of the Corsair XMS PC2400 DDR, it's set to CAS 2 which is the most aggressive setting possible for DDR. Most other DDR producers like Crucial, Micron and TwinMOS for example are set to CAS 2.5.
Please remember one thing; DDR RAM is not faster than SDR RAM!
DDR only offers twice the memory bandwidth SDR RAM does at the same speed. This becomes apparent when a system is doing something that's very memory intensive, say rendering animation in 3DS Max or when using Photoshop. Still, for a processor like the Athlon XP or Pentium 4, equipping these systems with SDR RAM severely limits the performance of the chip because the memory subsystem can't supply enough data to feed the CPU. That is why DDR has become such the darling of the computer world.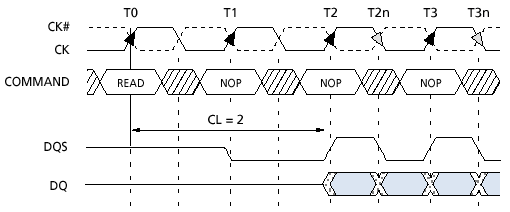 Above is the CAS Latency of the XMS PC2400 DDR
Since the Corsair memory already has PC2400 rating (150 MHz FSB) and since it uses the same DRAM as our reference stick of OCZ PC2400 which did 170 MHz (CL2) last time I checked, I expected some good things to come from the XMS2400. And no, I wasn't going to be disappointed. The Corsair XMS2400 did 171 MHz at the most aggressive timings!
Yay, a new champion, 1 MHz higher! Still, I've seen people hit even higher, 185 MHz+, that's insane for unmodded memory.