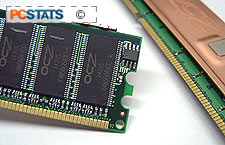 While OCZ do sell a great deal of memory, they not actually manufacture the silicon wafers, or individual DRAM chips that eventually make it onto OCZ-branded RAM.

Rather, the company does what many other 'fabless' manufacturers have done, and select unmarked memory modules from a major DRAM manufacturer like Hynix, Samsung and Winbond to name a few possible examples.

This is not a negative point by any means, most enthusiast memory manufacturers like Corsair and Mushkin are supplied with DRAMs by a third party as well.

The DRAM on the EL PC4200 DRAM reads X4W56080D-4L, and it's literally brand new as OCZ haven't even put the specs for the memory on their semiconductor stats page. With a 4ns rating, the memory should be capable of hitting 250 MHz, but it seems as though OCZ are dead set on squeezing a wee bit more out of them...

Bandwidth vs. Latency Overclocking Tests

We first tested the EL PC4200 memory in an Intel based test system, plugging the memory into an Abit IC7 MAX3 motherboard specifically. I immediately changed the memory timings from 2.5-4-4-7 to 2-2-2-5 and left the FSB at stock speeds. Unfortunately the system refused to post.

Next, I adjusted the timings to run at 2-3-3-6, but this was good only up to 210 MHz FSB. After a bit of tinkering, the only memory timings I could get the DIMM's to work with at anything higher than 210 MHz, was their rated 2.5-4-4-7 at 2.8V settings. The OCZ EL PC4200 memory did work just fine with the 5:4 and 3:2 memory divider; those of you who run extremely high FSB's will want to take note of that.

After going back to 2.5-4-4-7 (2.8V) it was pretty smooth sailing; 250 MHz came and went easily, as did 266 MHz. In the end the 512MB EL PC4200 memory modules maxed out at 271 MHz while maintaining 2.5-4-4-7 timings at a voltage of 2.8V. They could actually reach 280 MHz FSB, but 3DMark would drop back to desktop every now and then so things weren't stable. Setting DIMM voltage above 2.8V (I tested up to 3.4V) didn't help any, and actually decreased the speed the sticks ran at substantially.

Paired with an AMD AthlonXP 3200+ processor the twin sticks of OCZ's EL PC4200 DDR memory were able to run with CAS latency timings of 2-3-3-6. The maximum speed were were able to reach on an Albatron KX18D motherboard with the 2-3-3-6 timings was 214 MHz FSB, at 2.8V. That is not the highest we have ever gone with a pair of DDR, but considering the timings, it's not too bad either.

The OCZ EL PC4200 memory did not prove to overclock very well under an AMD Athlon64 3200+ environment, curiously. The modules ran with their SPD settings, but the max speed the memory would overclock to was just 202 MHz. It should be pretty obvious then, that the OCZ EL PC4200 dual channel DDR memory kit is best suited towards Intel enthusiasts.