AthlonXP 1900+ CPU Review
---
While not being the latest in terms of technology, the XP1900+ is still a mighty CPU to be reckoned with. Weighing in at 1.6 GHz, it'll tackle the most stressful programs out there with absolutely no problem.
As mentioned in earlier articles, the AthlonXP 1900+ based on the Palomino core uses a Performance Rating to show consumers just how powerful it is. Manufactured using a organic FC-PGA form factor, it's less expensive to produce then the original Thunderbird based Athlon's but more important, these chips are more durable!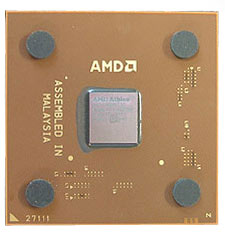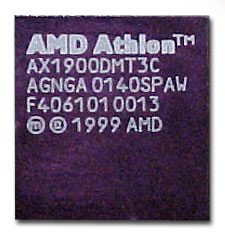 Still using the .18 micron manufacturing process, the XP adds more features to the original Athlon core, namely SSE and Hardware prefetch.
If you'd like to learn more about these features, please read the AthlonXP 2000+ System Review. In there, I go into more detail about the new features built into the core.
AGNGA is a new stepping, the original XP's were AGKGA's. Hmm... Newer steppings, usually mean better yields which in turn usually means better overclocking results! =)
And on that topic, this little brown chip seemed to clock pretty high! Starting at 1.6 GHz, it went up to 1.8 GHz no problem! Any higher and system stability was a problem.
Of course, since AMD is reaching the limit to clock frequencies on the .18 micron manufacturing process, you won't see 50% increases until the Thoroughbred core comes out later in Q1'02. That core will use a 0.13 micron process.
Test System Specs:

Computer Hardware:

Processor:
AMD Athlon XP 1900+
Clock Speed:
1.6 GHz (Stock 12 x 133)
1.8 GHz (Overclocked 12 x 150)
Motherboard:
AOpen AK77 Plus
Chipset:
VIA KT266A
Videocard:

MSI GF3Ti500

Network Card:

None

Memory:

256MB Corsair XMS PC2400 DDR RAM

Hard Drive:
Samsung SP4004H 40GB 7200 Ultra/100
CDROM:
LG 8400C MAS 40X CD-ROM
Floppy:

Mitsumi 1.44MB

Heatsink:
Dragon Orb 3
PowerSupply:
Enermax 550 Watt

Software Setup:

Windows Professional 2000
VIA 4 in 1 4.37
DetonatorXP 22.80

Benchmarks:

SysMark 2001 + Patch3
Super Pi
SPECviewperf 6.1.2
POVRay
WinBench99
Content Creation 2001
Business Winstone 2001
SiSoft Sandra 2002 Pro
3DMark2001
Return To Castle Wolfenstein
SYSmark2001 uses real world applications concurrently as an accurate way to test the system by following patterns that reflect the way real users work. SYSmark2001's workloads accurately represent today's updated business usage model. The benchmark runs at a realistic execution speed, with think times between application interactions, in order to emulate a desktop user's interaction with the operating system and applications.
Higher numbers denote better performance.
BapCo SysMark 2001 Benchmark Results
AthlonXP 1900+
Sysmarks
Ranking
1.
Internet Content Creation - 1.6 GHz
186
2
Internet Content Creation - 1.8 GHz
204
1
Office Productivity - 1.6 GHz
178
2.
Office Productivity - 1.8 GHz
206
It's a shame that SysMark doesn't support AMD's SSE otherwise the Internet Content Creation would be even higher! Still, the XP 1900+ puts up very respectable numbers. With a 12.5% clock rate increase, performance is raised 9.5% and 14% respectively.
SuperPI calculates the number PI to 1 Million digits in this raw number crunching benchmark. The benchmark is fairly diverse and allows the user to change the number of digits of PI that can be calculated from 16 Thousand to 32 Million. The benchmark, which uses 19 iterations in the test, is set 1 Million digits.
Lower numbers denote faster calculation times (seconds), and hence, better performance.
Super PI (1 Million digits) Benchmark Results
Processor
seconds
Ranking
1.
AthlonXP 1900+ - 1.6 GHz
73 sec
2.
AthlonXP 1900+ - 1.8 GHz
65 sec
The Athlon was already known for it's powerful FPU, even at stock speeds. SuperPi at stock speeds nets a time of 73 seconds and that very fast, but when the XP1900+ is overclocked, it's speed things up by 10%!