The rear of the Powerware 5125 features a cooling fan, the X-slot communications port (serial port is standard, the web/SNMP shown to the right is an optional extra), one pair of network surge suppression jacks good for RJ-45 Ethernet cable, six 5-15R plug sockets on two separate load segments (each set of three can be shut down separately), and battery connectors for an additional EMB (Electronic Battery Modules).
The UPS power cord measures about 6 feet long, and the plug fits the standard 5-15 receptacle in all households. Higher capacity UPS' may require special plug sockets, so it is always a good idea to check that.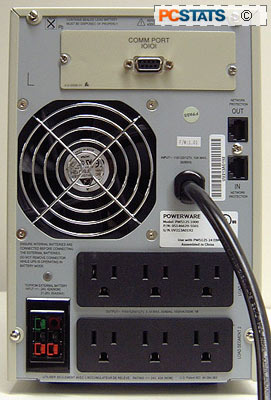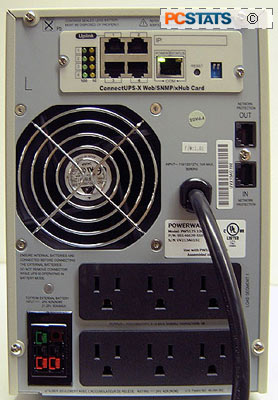 At the lower left hand corner of the rear of the 5125 are a set of wire terminals that look like the kind you might find on a stereo receiver. They are for additional Electronic Battery Modules. Up to four additional EBMs can be attached to the 1000VA Powerware 5125 UPS, so if in the future you need more load capacity, you can essentially upgrade the existing UPS with a couple extra battery packs.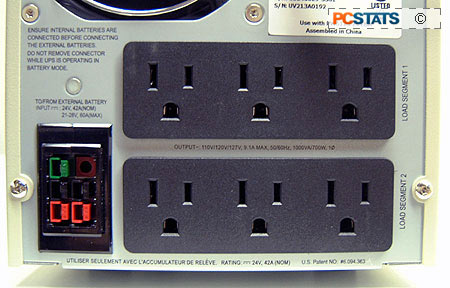 This has the added benefit that you retain management control of just one single UPS, and you can scale that UPS capacity to meet specific needs more economically than buying full units. EMB's do not however, increase the number of plug sockets available, they only provide additional power storage to the primary UPS.