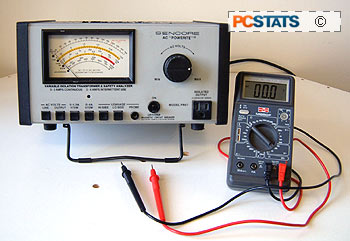 In the past we've kept to simply using a standard computer and 19" monitor to evaluate how long an Uninterruptable Power Supply will last under total power failure conditions. Comparing the amount of time the UPS can sustain a PC and monitor vs. the manufacturers listed specs gives everyone a rough idea of what to expect in real world situations.
However, Volt-Amp (VA) ratings tend to be a little obtuse for most of us, and so for this review we'll still conduct this cornerstone test, but we're also adding in a few other points of evaluation. We're also going to measure the UPS' output voltage levels with the unit in a utility over-voltage, and utility under-voltage situation.
For that we'll be making use of a Sencore PR57 Variable Isolation Transformer, Digital Multimeter and a few other apparatuses. During these tests, we'll be looking to see if the UPS output voltage drops below acceptable levels to cause computer instability.
This may seem a little overly elaborate, since most of us trust that a UPS will supply pure sinusoidal 120V AC, but that isn't quite the reality. Powerware list a -10% to +6% range for utility voltage regulation, and +/-%5 for battery voltage regulation, meaning the UPS' output voltages can vary.
The point of this test is simply to simulate different degrees of a utility power failure. As we have seen first hand in our own office, the utilities can fluctuate by a wide degree, and in the country where "brown-outs" are a common affair, it should be interesting to see how a UPS holds up to a range of AC voltage senario's, while supporting a running PC.
Battery Life Tests
With a test computer and monitor connected to the Powerware 5125 UPS, we pulled the plug and recorded how long the battery lasted.
Not surprisingly, the 1000VA Powerware 5125 and 1000VA Belkin Universal UPS lasted essentially the same duration, 23 minutes. For comparisons sake, we also tested the 500VA Belkin Home Office UPS, which managed just over 4 minutes before its battery ran dry. The key point to take away is that VA ratings and time are not a 1:1 relationship. Just because a 1000VA UPS kept the test system running for 23 minutes does not mean a 500VA UPS should keep that same system running for half the time.

Battery Life Tests - approx. 300VA load*

UPS Model:
VA Rating:
Battery Time:
Powerware 5125 UPS
1000VA
~23 minutes
Belkin Universal UPS
1000VA
~23 minutes
Belkin Home Office UPS
500VA
~4 minutes
* Using a Sencore PR57 Variable Isolation Transformer we were able to measure the current load of the connected test system which was comprised of a 19" CRT monitor, and typically outfitted Pentium 4 2.0 GHz computer. By using the formula V (x) A = VA we were able to calculate the total system power load, which in this case was approximately 300VA.