Cisco Network Consultants Handbook
---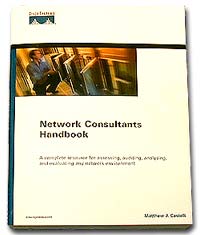 Weighing in at 970 pages, the Cisco Network Consultants Handbook covers everything from basic networking concepts to advanced networking technologies and useful network management protocols. The Network Consultants handbook is intended to be a one-source resource for medium to large businesses and their system administrators. As many large networks make use of several different networking technologies like Ethernet, WLAN, Token Ring, Fiber Distributed Data Interface (FDDI), Asynchronous Transfer Mode (ATM) LAN Emulation, Telecomunications (ISDN, DSL, DID), Frame Relay and VoIP it is important to have a firm grasp on each individual technology, and how they may interact.
In order to keep complicated networking environments operable, and serviceable by the administrators, the Network Consultants Handbook gives readers guidelines to work by for managing and documenting the installations. In this regard the book moves away from a simple guide to networking and more of real world administrative perspective. In particular the book deals with managing all of the above networking technologies, and even goes so far as to direct readers to review and analyse the physical and logical topology for any type of performance inhibiting issues.
Towards the end of the book the author delves extensively into routing protocols and LAN/WAN assessment. From this last chapter we can see that Cisco's Network Consultants Handbook is definitely targetting large and multi-platform networking environments. In other words, this is not a book for the average user, but rather a very detailed reference book for professionals dealing with real world situations.
The book also touches briefly on IPv6 which is the new standard for Internet Protocol. There is only one chapter dedicated to this new topic, and it gives a good overview of routing and addressing, address autoconfiguration, and requirements for transitioning from the current IPv4 to IPv6.
Like the Cisco Secure PIX Firewall course book, the Cisco Network Consultants Handbook requires some prior knowledge of networking go get the most out of it. For a relative newbie to Networking, I personally gained the most from the book in the discussions on the different LAN Transmission Topologies (from Unicast to Multicast to Broadcast).
Chapter 14 was rather interesting because it focuses on Fiber-Optic Technology - something which I really want to use one day. It's amazing the amount bandwidth that Fiber Optics have; from OC-1 (Optical Carrier) with it's 51.84 Mbps (Megabits per second) to OC-192 which has an amazing 9.953 Gbps of bandwidth!
Cisco is targeting networking professionals with the Network Consultants Handbook so it's not something the average Joe would pick up to read, but if you are working in the field it could be a very useful reference book to have on the shelf. If you have a firm grasp of networking technology this book for you. It functions as it sounds, a handbook for Network Consultants.
Since this is quite a big book, the 27 Chapters are listed below for your reference.
Chapter 1: Open System Interconnection (OSI) Model
Chapter 2: LAN Topologies
Chapter 3: Ethernet/IEEE 802.3
Chapter 4: Ethernet Documentation
Chapter 5: Ethernet Network Review and Analysis
Chapter 6: Token Ring/IEEE 802.5
Chapter 7: FDDI
Chapter 8: Token Ring and FDDI Documentation
Chapter 9: Token Ring and FDDI Network Review and Analysis
Chapter 10: ATM LAN Emulation (LANE)
Chapter 11: ATM LANE Documentation, Review and Analysis
Chapter 12: Telecommunications and Telephony
Chapter 13: Private Line WANs
Chapter 14: Fiber-Optic Technology
Chapter 15: Frame Relay
Chapter 16: Frame Relay Documentation
Chapter 17: Frame Relay WAN Analysis
Chapter 18: ATM Wide-Area Networking (WAN) and MPOA
Chapter 19: ATM WAN Documentation
Chapter 20: Voice Technology
Chapter 21: Remote Access and VPNs
Chapter 22: Network Management Introduction
Chapter 23: IP VPN WAN Documentation
Chapter 24: Routing Protocols Part I
Chapter 25: Routing Protocols Part II
Chapter 26: IPv6 Introduction
Chapter 27 Multiprotocol Label Switching (MPLS)