OCZ PC3000 DDR366 RAM Review
---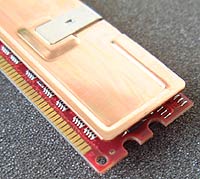 AMD Athlon processors received a huge boost in performance when the motherboard manufacturers transitioned from SDRRAM based systems to DDR. Regardless of the gains PC1600 DDR and PC2100 first brought to the table, the performance market craved more, and shortly thereafter PC2400 and PC2700 rated DDR began to pop up. Sooner or later, even the mighty PC2700 DDR333 would be surpassed by something better and faster.
The next level in DDR memory was met by PC3000, or DDR366.
But first a little history. Soon after DDR came out companies such as TwinMOS, OCZ and Corsair started releasing DDR RAM that catered towards all those warranty voiding people such as myself, some of it was true PC2400 or PC2700, and some of it was overclocked memory.
We've seen some really good results from the PC2400 DDR that OCZ released earlier, which is reviewed right here, and now they have up'ed the ante with their PC3000 memory. Priced at about $90USD for a 256MB stick, it's some of the least expensive "high" performance DDR DIMM's available!
Copper Heatspreaders
The first thing you'll notice when you look at the pretty red 256MB OCZ PC3000 DIMM's are the nice large copper heat spreaders used on both sides of the stick. During our testing, the copper did get quite warm so this extra cooling is great for peace of mind. OCZ's custom designed copper ramsinks are attached via a thick thermal pad. Unfortunately the pad doesn't completely cover the full height of the chips, but it is probably better than using thin double sided tape of the same size.

The memory is rated to run at a CAS Latency (CL) of 2.5 at 183 MHz FSB (366 DDR) so it should blow the doors off the other memory we have in the lab. Most of the other DDR modules could only do about 175 MHz at CL 2.5, and 171 MHz at CL2.
First thing I did when the PC3000 DDRAM arrived was pop it into our reference Epox 8KHA+ (VIA KT266A) motherboard. However I was soon met with disappointment as the 512MB of memory we were testing (2X 256Mb) just wouldn't run at the rated frequency of 183 MHz, even with the most relaxed memory timings.
Compatibility: KT266A, KT333,
On the Epox 8KHA+ board, the PC3000 would hit just 175 MHz, and any attempt to go higher would result in a 2B or 26 error on the port 80 card. Perhaps we had hit the limit of the 8KHA+ as we had had two other sticks max out at 175 MHz CL 2.5 before. Nuts to that, I decided to use another board to test the PC3000, and this time our candidate was the brand new MSI KT3 Ultra.
Update:
After updating the Epox 8KHA+ BIOS to the latest one on Epox's website (8khi2108.exe), we were able to run the PC3000 at 183 MHz with CAS 2.5/3/3 with no stability problems.
Based on the just released VIA KT333 chipset, the MSI KT3 Ultra was able to run the OCZ PC3000 memory at 183 MHz CL2.5, however stability was a problem.

Often times, when benchmarking 3DMark2001SE the system would crash back to desktop. This is usually an indication that the memory is running too fast. Raising the voltage in the BIOS didn't seem to help much with the stability of the overclocked OCZ PC3000 memory and I just couldn't get the board to run stable.
Since MSI KT3 Ultra wasn't working too well with the PC3000, the next board up on the block was the Iwill XP333-R. Officially validated to run the PC3000 DDR, we couldn't get the PC3000 to run in it either. It seemed as though anything above 166 MHz wouldn't work. This may have been a problem with the BIOS version, and not the board. Upon flashing the IWill XP333-R to an older version (12/13/01) we could run the PC3000 memory at 180 MHz, which was just 3 MHz off the rated spec.
This wasn't good enough to satisfy my need for speed, or do justice to the memory so I quickly shot over to OCZ's website again to see their list of "recommended motherboards". On that list they also had the Abit KR7A so I made a call to our buddy Mike atPSI to borrow a fresh Abit KR7A. Thankfully, that finally did the job! With the ABit KR7A, we were able to not only use the PC3000 DDRAM at it's rated spec, but we were also able to push it up even higher.
On the KR7A, the two sticks of PC3000 were able to do an amazing 200 MHz FSB at CL 2.5!!! At a setting of CL 2 the memory did a rather unimpressive 168 MHz however. It's weird that the PC3000 ran so low when set to CL 2.
test system specs:
/font>

computer hardware:

processor:
AMD AthlonXP 1900+
Clock Speed:

Around 1.7-1.8 GHz for each test
10.5 x 170 = 1.78 GHz
9.5 x 183 = 1.74 GHz
8.5 x 200 = 1.7 GHz

Motherboard:
Abit KR7A-RAID
Chipset:
VIA KT266A
Videocard:
Sound Card:
N/A
Network Card:

N/A

Memory:

2x 256MB Corsair XMS PC2400 CL2 DDR
2x 256 MB OCZ PC3000 CL2.5 DDR

Hard Drive:
Maxtor 10 GB Ultra/66 HDD
CDROM:
Panasonic 48x CD-ROM CR-594-B
Floppy:

Panasonic 1.44MB Floppy Drive

Heatsink:
ThermalTake Dragon Orb3
PowerSupply:
Enermax 431 Watt
Software Setup
Windows 2000 Pro + SP2
VIA 4in1 4.37V
DetonatorXP 22.80
DirectX 8.1
Benchmarks

SiSoft Sandra 2002 Pro
3DMark2001 SE
Quake III Arena
Return to Castle Wolfenstein
Serious Sam 2
Benchmarking notes:
Using the Corsair XMS PC2400 DDRRAM, timings were set to the most aggressive, while benchmarking the OCZ PC3000, the memory was set to most conservative. Not that it should affect performance, but the HDD was set to PIO mode 4 so it could handle the high 200 MHz FSB.