ACorp 4D845A Socket 478 Motherboard
---
With Intel's reputation of building stable chipsets it seems as though almost everyone was looking forward to the release of their i845-D chipset - the chipset which would finally bring official DDR support to the Pentium 4. Now that the i845D has arrived and become widely available to consumers a host of other manufacturers have entered the race and released similar chipsets which offer about the same level of performance. This seems a little disappointing since Intel wasn't really able to separate its chipset from the rest in terms of performance.
Things have really changed from the days when the BX chipset was king. Intel is no longer the only player who can produce solid chipsets anymore, and it's not for the worse.
Both VIA and SiS have come a long way, and now offer fairly mature chipsets to the motherboard manufacturers. Ali still has a way to go in my opinion, but they are steadily progressing which is good. However, when it comes to large company's and their purchasing decisions, Intel has one lead that no other chipset manufacturer can claim to, its reputation; and that goes a very long way, especially with corporate buyers.
The 4D845A mother board we're looking at today should appeal to thrifty buyers as ACorp produce relatively inexpensive motherboards for the value market. The only other ACorp board we've tested was the 7KT266A, a socket A board, and it proved to be quite stable in operation and performance.
Like many other manufacturers, Acorp have chosen to colour their PCB's, and in this case gone with a nice blue, much like Gigabyte. The sockets are also colour coded, with the DDR sockets purple, IDE red, 4X AGP blue, and PCI slots white.
ACorp 4D845A Motherboard
Ships with the following:

IDE CABLE
ATA 100 Cable
FDD CABLE
Driver CD-ROM + Bonus Software
Printed Manual
There are really only two things that can vary with a motherboards layout. The first is the placement of the IDE and FDD connectors, and the second is where the power taps go.
To decrease the physical size of the PCB (that would be the blue substrate for those of you unsure) most manufacturers position the IDE and FDD connectors towards the bottom of the board, opposite from the PCI slots. While this has the benefit of lowering manufacturing costs, it can cause problems for users with long PCI cards which may not seat fully because of the IDE connector.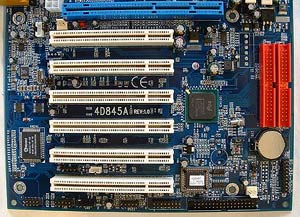 The position of the FDD connector, at the absolute base of the 4D845A, tells us that Acorp don't really expect this motherboard to be going in any large cases, like the HX80 for example. FDD cables are only so long, and you would have difficulties getting the cable to reach the connector in that particular case - no pun intended.