Abstract: Epox has always had an adventurous side as a company. That trait was evident in their recent AMD boards which gained so much attention.


81% Rating:

Home > Reviews > Motherboards > Epox 4SDA+
Epox 4SDA+ SiS645 Socket 478 Motherboard
---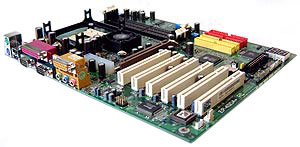 Epox has always had an adventurous side as a company. That trait was evident in the 8KHA+ motherboard for AMD processors which gained so much attention and really brought Epox into the performance spotlight.
Today's motherboard, the 4SDA+, is a Pentium 4 mainboard with a twist - it uses the SiS 645 DDR333 capable chipset. The SiS 645 currently offers the most memory bandwidth to the Pentium 4 of any other comparable DDR chipset.
The 4SDA+ officially supports 400 MHz FSB Pentium 4's (Williamette or Northwood) from 1.5 GHz to 2.2 GHz+. There are 3 DIMM slots which will support a total of upto 3 GB of non-ECC PC1600/2100/2700 DDR RAM.
With a 4x AGP slot featuring backwards support for 3.3V AGP videocards as well as 1.5V ones there is a little extra breathing room in terms of display adaptors. Six PCI slots give the average user enough expansion, so that no matter what you want to drop in you should have plenty of room. The motherboard also has an onboard HighPoint HPT 372 IDE RAID controller which as you know supports Ultra/133 hard drives (it can tackle RAID's 0, 1 and 0+1).
Onboard audio is taken care of by the VIA AC'97 codec which isn't good for anything other then forcing you to buy a hardware based soundcard (IMHO). Still, with six PCI's, you're in good shape.
Epox EP-4SDA Motherboard

Ships with the following:

2x IDE ATA66/100 Cable
FDD Cable
Driver CD
User Manual
Looking at the EP-4SDA, the first thing we noticed was that the CPU socket was turned 90 degrees clockwise. We're not sure why Epox has done this, perhaps this creates cleaner traces to the CPU socket, or maybe it's just to save space, but in any case I like it.
If your case butts up right against the top of the motherboard there could be some problems installing a heatsink, but with an Enermax powersupply it could make things quite interesting cooling wise.
While keeping the four IDE connectors together is a great idea, their location would have been a bit better if they were up by the DIMM slots. With a full set of IDE cables in the sockets you may have some problems using the 1st to 3rd PCI slot with long cards.
Fan Headers
With the floppy drive connector at the bottom of the board it makes things more difficult if someone is using a full tower case.
The EP4SDA features 3 fan headers which is pretty much standard issue these days. However the location of the "Power Fan" header's location doesn't do much for users looking to add after market videocard cooling.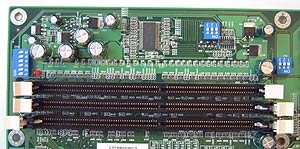 Located adjacent to the EP4SDA+ label, it's almost impossible to reach (when installed in a case), and is really only good for a small case fan or something.
Third party GPU coolers such as the blorb would have a really hard time going down there, to connecting to the last fan header which is by the port 80 debugger. For component cooling the only really useable fan header is for the CPU heatsink.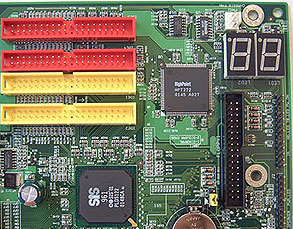 Looking at the Epox EP-4SDA the first thing you notice are the abundance of dip switches everywhere. Why are there so many? The dip switches are there on the PCB so you want hard set the voltages you can. Two sets of dip switches are for CPU voltages, one is for memory and the other AGP voltage.
We here at PCStats.com are big fans of the Port 80 card in the lower right hand corner of this motherboard. I personally use these little buggers so much I call it Sam... Sam says FF, Sam says EE, Sam says F8. Well you get the idea!
The Port 80 card (its not really a 'card' but that's what it's called) is great for testing since it will usually say exactly what's wrong with the system should it not POST.
We asked Epox why they go to the extra expense of including these debuggers on their motherboards at COMDEX this year and the answer was pretty simple. If a person RMA's a board back to them for servicing the first thing a technician does is drop in a 'real" Port 80 debugging card.
By including this device on the motherboard, it allows users to reference error messages and solve the problems themselves. So in effect, this extra feature saves time and trouble for all concerned, and gives a bit of a more detailed error explanation than Dr. Led is able to.
There is no onboard support for LAN with the EP-4SDA, but at the very least if you need Wake on LAN (WoL) it's there. Integrated audio is taken care of by VIA's AC'97 codec which isn't an actual soundcard. Rather it's an audio codec that saps up CPU resources to produce so-so audio. Epox should take their onboard audio solutions one step higher like most manufacturers have and use the C-Media 8738 hardware based soundcard.
A little chipset called the Highpoint HPT372 bring about Ultra/133 IDE RAID which will support hard drives in RAID's 0, 1 and 0+1 configurations.