MSI KT3 Ultra-ARU KT333 Socket A Motherboard
---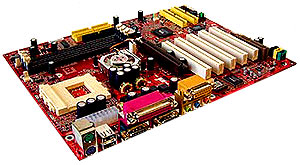 Less then six months after announcing the KT266A chipset, the much improved version of the original KT266, VIA has announced the new KT333. Good yes, but you have to wonder about the logic behind this.
After all VIA's KT266A was the chipset of choice for motherboard manufacturers and consumers because of its performance and stability.
Was VIA really feeling threatened by SiS's 745? Or perhaps, is it just a simple case of "DDR333" fever? Whichever it may be, the era of the KT333 chipset, and the "DDR333" catch phraise is upon us fully.
MSI has always embraced new technology - often they are one of the first manufacturers to adopt, and the KT3 Ultra-ARU is no exception. Sporting the VIA KT333 chipset this red motherboard is fully packed with features. With a 4x AGP (2.0) slot, five PCI's, onboard 5.1 audio, onboard USB2.0 and an IDE Ultra/133 RAID controller what more could a person want? The KT3 Ultra-ARU retails for about $145USD and considering what's on it, that seems like a very good deal.
Although packaging is something we usually don't talk about, it's obvious that MSI has spent some time to money to make their motherboard boxes look good. Really good in fact. Along with the bright red PCB of the actual motherboard is a nice bright red box with pull out container, and hand strap. Everything is held inside the case snugly, and with its glossy finish, it's quite a change from the average bland motherboard box of old.
MSI KT3 Ultra-ARU Motherboard

Ships with the following:

2x IDE ATA66/100 Cable
FDD Cable
USB1.1 bracket
USB2.0 bracket
6-channel audio bracket
Driver CD, DVD software, etc.
User Manual
The layout of the KT3 Ultra-ARU is almost exactly the same as the MSI KT266Pro2-RU, the KT333 and KT266A north bridge are pin compatible and so are the VT8233 and VT8233A so all MSI essentially had to do was swap the chipsets out with newer ones and boom, you've got yourself a new motherboard.
While the KT3-Ultra-ARU and the KT266Pro2-Ru have almost identical layouts there are a few changes in the PCB in reality. Since the MSI KT266Pro2-Ru was a decent performer, we can look at the KT3Ultra as a step up, building upon a previous winner. However with the good, inevitably come some of the few quirks that were present in the KT266Pro2.
Since I tend to switch between a Radeon 8500, GeForce 3Ti500, and several other video cards several times a week (hey its all part of being the Fastest Webmaster) my biggest gripe was a little capacitor near the AGP lock. Even though I have small hands, everytime I removed the videocard my finger would nudge that capacitor and that's not very comforting.
Motherboard Features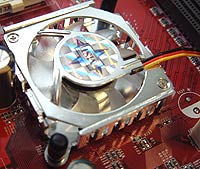 I like my fans, and I like plenty of them. The KT3 Ultra comes packing a total of 4 fan headers, with one automatically taken up by the active Northbridge heatsink. At least one of the other three will be used by the processor fan, leaving two to play with should you want to add a special GPU heatsink or small case fan.
With five PCI slots, you should have more then enough expansion slots for your devices, but I would have preferred it if MSI scraped the CNR and replaced it with a 6th PCI slot (though it wouldn't be a bus mastering slot). Heck you never can have too many right!
The KT333 northbridge is cooled by a rather fancy active heatsink and since the VIA chipset can get quite hot, it does help out. Also, upon removing the heatsink to reveal the VIA KT333 chip, we found that MSI had put on thermal paste! This was a surprise and a nice change at that. Often times manufacturers neglect the little things such as this.
KT3-Ultra Quirks
The clear CMOS jumper is located quite close proximity to one of the fan headers and is really difficult to remove so save yourself some trouble and attach a small piece of tape to it. Often it is these little things that really only cause issues when the board is installed and you trying to get at something without pulling out bunch of wires or cards.
The Promise PDC20276 RAID controller is certainly better than no RAID controller at all, but it is limited as the chipset cannot be used as a stand alone Ultra/133 IDE controller. Unfortunately we do not have extra hard drives handy to fully test the RAID function. If history is true, the Promise IDE controllers are usually very good performers, often times at or near the top of their class.
IDE RAID in brief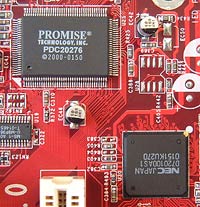 RAID 0 is not considered a true RAID since, there's not data redundancy.
RAID 0 takes two drives of the same size/configuration and stripes them, meaning it makes one big drive out of two equal ones. This improves performance by cutting hard drive latency in half. Since the data is divided equally and written on two hard drives it also increases the data bandwidth by two. The reason it's not considered true RAID is because if one drive fails, all data is lost.
RAID 1 on the other hand mirrors two drives of the same size, so in theory if one drive fails, the other will take over as the primary hard drive and the system can continue to operate normally. This is what is supposed to happen with a SCSI hard drive setup and it actually works pretty well there.
The IDE sub system doesn't allow hard drives to be disconnected while the computer is still powered up and in use like SCSI can unless you have a special HDD tray. Generally, when one IDE drive fails the system usually locks up anyway. The data is safe since it's mirrored on the other drive which is the real benefit.