Nero, Sandra Benchmarks
CD Speed is a CD-ROM benchmark which can test the most important features of a CD-ROM drive. In this particular test we use a pressed Audio CD with about 65 minutes of audio on it as the test disk. CDROM's in general have a harder time processing audio data, and hence the results can be drastically slower than that of data tests alone.
Samsung SW-224 - CDSpeed Audio Tests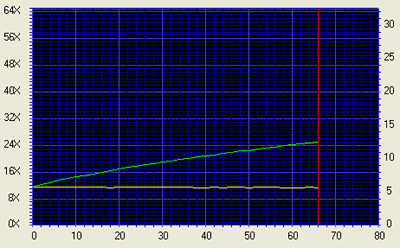 Nero CD Speed 99 - Audio Benchmarks
Optical Drive
SW-224
SC152
DVD-500M
SW-216
Disk Type
Audio
Audio
Audio
Audio
Avg Speed
22.98x
18.97x
29.96x
22.32x
Random Seek Time
86ms
88ms
88ms
97ms
1/3 Seek Time
102ms
98ms
95ms
98ms
Full Seek Time
157ms
167ms
161ms
163ms
DAE Quality
10
10
10
10
CPU use: 1X
2%
1%
0%
2%
CPU use: 2X
6%
3%
1%
4%
CPU use: 4X
14%
5%
2%
7%
CPU use: 8X
23%
11%
4%
13%
Disk Recog. Time:
8.38s
4.35s
0.01s
-
Disk Eject Time:
1.10s
1.06s
1.19s
1.18s
Disk Load Time:
1.10s
1.14s
7.33s
1.14s
Audio benchmarks are in line with the data ones, although CPU usage usually jumps and average disk speeds drop down. In this set of tests, the Samsung SC-152 again posted a lower CPU usage value (11%) than the other Samsung drives, and interestingly the lowest average speed. In this set of test the Pioneer DVD had the best CPU usage times, and average speed. Access times between the SC-152 and the Pioneer drive were about the same.
SiSoft Sandra 2001 CDROM Benchmarks
Source: Sandra
Sandra is designed to test the theoretical power of a complete system and individual components. The numbers taken though are again, purely theoretical and may not represent real world performance. Unfortunately we do not have the test results from the SW-216 to include in this comparison because an older version of Sandra was originally used to test it.
SiSoft Sandra 2001 CDROM Benchmark Results
Optical Drive
SW-224
SC152
DVD-500M
SW-216
Disk Type
Data
Data
Data
Data
Drive Index
1745
2533
1282
n/a
Buffered Read:
1327kb/s
2273kb/s
19MB/s
n/a
Sequential Read:
2380kb/s
3663kb/s
1699kb/s
n/a
Randon Read:
778kb/s
835kb/s
660kb/s
n/a
Acess Time:
109ms
112ms
112ms
n/a
Sandra has always been a staple of optical drive benchmarking and in this set of tests the SC-152 fairs the best with a Drive Index of 2533. The Pioneer DVD drive, which has been giving the SC-152 the most competition of all the drives produces a much lower Drive Index of just 1282, although its DVD capabilities give it an unfair advantage in terms of buffered read.
All in all, most consumers tend to shop for CD-ROM drives by price alone. Speaking from personal experience, when we're at the computer store shopping for CD-ROMs for a new system, it is price first before speed - so long as the drive is over 40X.
With the Samsung SC-152 sure to be on the shelf at very competitive rates (as low as $25USD on some web retailers, the pioneer drive, in case you are wondering is about twice the price) you wouldn't have to sacrifice speed for a anything less than a very fast CDROM.