Samsung SC-152 52X CDROM Review
---
A 52X CDROM is not the fastest on the market (that would go to Kenwoods 72X), but it is very speedy. The needs of a good solid fast CDROM are pretty obvious, but where the Samsung SC-152 really shines is on price. The SC152 uses the standard geared motorized tray mechanism and can be mounted horizontally or vertically depending on your case. Both the full sized 120mm CD's and smaller half-size 80mm CD's can be read. The front bezel is clean with just an eject button, indication LED, headphone jack and volume wheel for audio disk playback. The drive is virtually identical to other Samsung optical units, and comes with 128KB of buffer memory.
Samsung SC-152 CDROM

Ships with the following:

User's Guide
CD Audio cable (4-pin connector)
Philips mounting screws
40-pin IDE CABLE

Manufacturer: www.samsung.ca
On the rear of the drive Samsung have included along with the standard IDE/Molex Power/Analog Audio Connect, a two-pin digital audio output terminal. However, only the four-pin analog audio cable is included with the drive. This cable needs to be plugged into the motherboard or sound card if you want to listen to CD's through the computer. The SC-152 comes with that four-pin audio cable, a 40-pin IDE cable, sound mounting screws, and manual.
test system specs:

computer hardware:

processor:
amd athlon xp 2000+
clock speed:
1.67ghz
motherboard:
asus a7v266-e
chipset:
via kt266a
videocard:

ati radeon 8500

network card:

dlink de-528ct

memory:
Hard Drive:
IBM 40GB Deskstar 7200RPM
Heatsink:
Taisol CGK760092
PowerSupply:
Enermax 431Watt
Software Setup
Windows 2000 Pro
VIA 4in1 4.37V
DetonatorXP 21.83
DirectX 8.1
Benchmarks
CD WinBench 99 V1.1
Nero CD Speed
SiSoft Sandra 2001
We made sure that the drive was set to DMA to get the best possible results from it. If you are unsure of how to set your drive to DMA a short explanation is included in the instructions. T he first benchmark we used to test the read capabilities of the SC-152 was E-Testinglabs CDWinbench.
The e-TestingLabs CD Winbench99 benchmark runs a series of scripted programs from a special CD in the drive and measures the time and data transfer capabilities as a result. Higher numbers mean better performance.
CD-WinBench 99 Benchmark Results
Test Drive
Results
1.
Samsung SW-224 (CD-RW)
1320 kb/s
2.
Samsung SC-152 (CDROM)
1710 kb/s
3.
Pioneer DVD-500M (DVD ROM)
2440 kb/s
4.
Samsung SW-216 (CD-RW)
1280 kb/s
The

SC-152 does very well compared to the other Samsung products in this list of reference optical drives. It should be noted that the Pioneer DVD-500M is a 16X DVD drive, so the higher results there are not unexpected. We are mainly concerned with comparing the 52X SC-152 against a broad range of optical devices likely to be in the average computer. In the past we would only have used other CD-ROM drives, but I think it is fair to broaden that to simply optical drives these days. In any case, the SC-152 is fast, as we might have expected.

CD Speed is a CD-ROM benchmark which can test the most important features of a CD-ROM drive. In this particular test we use a pressed CD-ROM with about 640MB of data as the test disk. Using a CDR or CDRW as the test disk may (or may not) impact the results slightly, so the pressed disk is the de facto standard.

Samsung SC-152 - CDSpeed Data Tests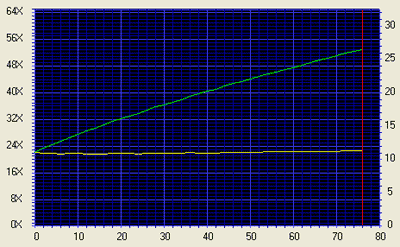 Nero CD Speed 99 - Data Benchmarks
Optical Drive
SW-224
SC-152
DVD-500M
SW-216
Disk Type
Data
Data
Data
Data
Avg Speed
30.82x
38.90x
32.30x
24.94x
Random Seek Time
87ms
86ms
86ms
94ms
1/3 Seek Time
91ms
105ms
100ms
112ms
Full Seek Time
137ms
181ms
164ms
192ms
CPU use: 1X
1%
1%
0%
1%
CPU use: 2X
3%
2%
1%
2%
CPU use: 4X
7%
4%
2%
5%
CPU use: 8X
11%
8%
3%
9%
Disk Recognition Time:
9.15s
6.30s
0.01s
-
Disk Eject Time
1.12s
1.05s
1.19s
1.19s
Disk Load Time:
1.10s
1.14s
7.26s
1.14s
During the CD-Speed data transfer tests, the CPU usage remained lower than the previous Samsung drives, but not quite as low as the Pioneer DVD drive. With CPU usage peaking at 8%, the usage was respectable. Average disk speeds were the highest of all the reference drives at 38.9X. The drive appears to have peaked at 52X which complies with the rating it has received, and the overall speed is healthy indeed. Comparatively, the Pioneer DVD drive was only capable of an average rate of 32X.