Pioneer DVD-500M 16X DVD-ROM Review
---
The Pioneer DVD-500M is a 16X DVD-ROM with a listed DVD data max transfer rate of 21MB/s, currently putting it at the top of the market in terms of speed.
While the all encompassing Combo drive (CDRW-DVD) has yet to really take the markets by storm, consumers are still quiet comfortable buying their CDRW Burner separate from their DVD-ROM drive because it pretty much guarantees faster performance than a Combo can offer. We still think that 3-in-1 drives are great, but they are never a head of the curve, something that is essential for a lot of consumers.
The DVD-500M uses a quiet belt-driven tray mechanism which is good for noise reduction. The drive can be mounted horizontally or vertically depending on your preference and both a full sized 120mm DVD and smaller half-size 80mm CD's can be read. The front bezel is clean with just an eject button, indication LED, headphone jack and volume wheel for audio disk playback.
Pioneer DVD-500M

Ships with the following:

User's Guide
CD Audio cable (4-pin connector)
Philips mounting screws
IDE CABLE

Manufacturer: www.pioneerelectronics.com
The front bezel is very plain and flat, and quiet boring. Compared to the Samsung drives we have reviewed recently, the DVD-500M is not that attractive, but hey, its just a DVD-ROM! On the rear of the drive, only a four-pin analog audio cable available for use.
test system specs:

computer hardware:

processor:
amd athlon xp 2000+
clock speed:
1.67ghz
motherboard:
asus a7v266-e
chipset:
via kt266a
videocard:

ati radeon 8500

network card:

dlink de-528ct

memory:
Hard Drive:
IBM 40GB Deskstar 7200RPM
Heatsink:
Taisol CGK760092
PowerSupply:
Enermax 431Watt
Software Setup
Windows 2000 Pro
VIA 4in1 4.37V
DetonatorXP 21.83
DirectX 8.1
Benchmarks
CD WinBench 99 V1.1
Nero CD Speed
Nero DVD Speed
SiSoft Sandra 001
We made sure that the drive was set to DMA to get the best possible results from it. If you are unsure of how to set your drive to DMA a short explanation is included in the instructions.

In order to gauge the performance of the Pioneer DVD-500M, Nero DVD Speed was used along with the "Matrix" DVD, to measure the performance of the drives access time, transfer rate and CPU utilization. We tested visual performance by connecting the Athlon 2000+ test system up to a 47" HDTV (hey why not?) and played back the Matrix, specifically scene #28 (the "Lobby Shooting Spree") and checked for any pauses, skipping, or jerkiness during the film sequences.

DVD Speed is a DVD-ROM benchmark which can test the most important features of a DVD-ROM drive. For this test we use a pressed DVD-ROM with about 7.8GB of data on it.

Pioneer DVD-500M - DVDSpeed Tests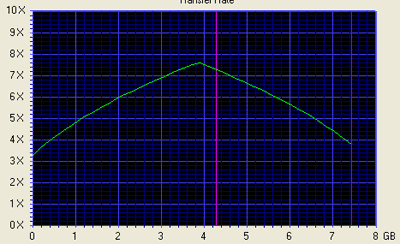 | | | | | | |
| --- | --- | --- | --- | --- | --- |
| Optical Drive | DVD-500M | DVD106 | SD616 | SDM1212 | SM-308 |
| Disk Type | DVD | DVD | DVD | DVD | DVD |
| Avg Speed: | 5.73x | 5.74x | 4.85x | 4.52x | 1.71x |
| Start Speed: | 3.25x | - | - | - | 1.76x |
| End Speed: | 3.76x | - | - | - | 1.74x |
| Type: | P-CAV | - | - | - | CLV |
| Random Seek Time: | 90ms | 98ms | 81ms | 111ms | 103 |
| 1/3 Seek Time: | 103ms | 111ms | 88ms | 116ms | 110 |
| Full Seek Time: | 178ms | 187ms | 158ms | 187ms | 346 |
| CPU use: 1X | 3% | 16% | 20% | 21% | 58% |
| Disk Info: | 7.8GB | - | - | - | 7.8 |
| Spin Up: | 3.3sec | - | - | - | 3.2 |
| Spin Down: | 2.1sec | - | - | - | 2.4 |
Between the older DVD combo drive and the DVD-500M there is significant hit to performance. The Pioneer is capable of maintaining an average read speed of 5.7x that actually peaks at around 8X by the looks of it. Start and end read speeds hovered around the 3.5X times mark, and realistically speaking the drive produced a good clean image when we hooked it up to a display to watch movies.
Since we don't have the complete test data for the DVD106, SD616, or SDM1212 we can only offer them for rough comparison (we no longer have the drives). Unlike the SM-308, these drives are purely DVD-ROMs, and since they were tested a while ago on another system I wouldn't pay too much attention to the CPU usage numbers (we tested the DVD-500M on a Athlon XP 2000+ system). What is interesting is the Average speed results, and here the Pioneer DVD-500M competes very well with the Pioneer DVD-106 and Samsung SD616 which are also 16X DVD-ROM's. The Toshiba SDM1212 is a 6X DVD-ROM, and thrown in for comparisons sake. Note that none of the 16X drives come near to using all that speed.
The e-TestingLabs CD Winbench99 benchmark runs a series of scripted programs from a special CD in the drive and measures the time and data transfer capabilities as a result. Higher numbers mean better performance.
CD-WinBench 99 Benchmark Results
Test Drive
Results
1.
Samsung SW-224 (CD-RW)
1320 kb/s
2.
Samsung SC-152 (CDROM)
1710 kb/s
3.
Pioneer DVD-500M (DVD ROM)
2440 kb/s
4.
Samsung SW-216 (CD-RW)
1280 kb/s
The DVD-500M posts the best results of any of the other drives tested here. We have compared this DVD drive against other optical drives because these tests are not specific to DVD playback.