TRENDnet TK-800R 8 Port KVM 19" Rack Mountable Switch Box
---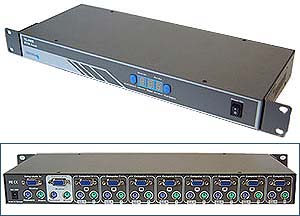 With rack mount servers in such close proximity to one another it's not feasible to have one monitor/keyboard/mouse per system. If we take a standard 42U filled to the brim with 1U servers that would require something on the order of 40 sets of monitors and keyboards/mice - which is just silly.
Long ago, companies realized there was a very big and very real requirement for rack mount KVM - Keyboard, Video, Mouse switch boxes. Even desktop users who have more than two or three computers can use the TK-800R as it also doubles as a desktop 8-port KVM, albeit a large one.
Intended for especially for 19" server racks, the TK-800R has little flanges which attach to the side so it can be mounted in the rack, taking up just 1U of space.
Retailing for around around $245USD the Trendnet TK-800R is pretty affordable for a digital 8 Port KVM (digital KVM's in general are expensive). The TK-800R comes with the mounting brackets, a users manual, AC adapter and one 85 CM KVM shielded cable for daisy chaining.
Since the unit is rack mountable it goes right into the frame with a minimum of fuss. Changing ports is as easy as pressing the "Port Select" button until the "Port No." is the one you want. Or if you happen to be on the keyboard with a few servers simultaneously, with a few strokes of the keys on the keyboard you can also switch beteen KVM ports.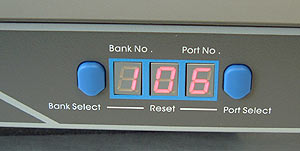 The TK-800R is a stackable KVM, so the other button lets you switch between another bank.
On the back of the KVM, TRENDnet has done a very good job in labeling KVM, everything is neat and easy to read. I've seen some pretty poorly labeled KVM's in the past and when you are dealing with a lot of ports it is important to know which one is the consol and which are not. However TRENDnet leaves little doubt which port does what.
Oddly, we were a bit puzzled by the power button which doesn't seem to do much (and no we're not joking). As long as the TK-800R had a power source - be it from the AC adapter or via one of the computer cables (keyboard/mice), it wouldn't turn off even with the button set to off. During the testing period, the KVM worked just as well when it was officially turned off.
Keyboard based switching
The nice thing about TK-800R was that it's possible to switch computers without actually manipulating the KVM. Rather a few key combinations would do it.
For instance to change computers, one just has to press the Scroll Lock key twice within two seconds and then press the up or down directional keys. This comes in pretty handy especially if you're working far from the actual KVM. Some other nice features of the TK-800R were contained in a rather easy to configure On Screen Display (OSD).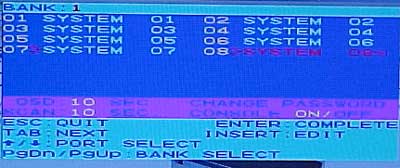 The OSD was a lot like the rear of the TK-800R, very detailed and easy to use so it was pretty much fool proof. For security purposes, there is a password system built into the KVM which can disable access via the keyboard and mouse. It's a great feature for situations where the keyboard/mouse are outside of the server cage, and you want to maintain security.
The TK-800R also supports an auto scan mode with flexible timing of between 5 and 99 seconds. If you have enough KVM's daisy chained together you can even give specific names to each port and do a text-based search for quick indexing. A small sun symbol by each port indicates if the computer is on or off.
Conclusions
With a price tag of $245USD the TK-800R KVM is designed especially for server applications, but I think it could also find use in a few other situations. The unit is built from heavy gauge steel and is very sturdy.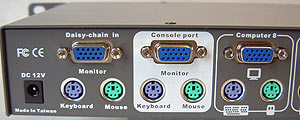 Visually, the quality of the TK-800R was top notch when used with good quality shielded cables. We tested it out with the Samsung SyncMaster 181B LCD and there were no ghost lines present anywhere, and image quality remained just as sharp. The unit will support resolutions of up to 1920x1440, and bandwidth of as much as 200MHz.
The only downside is that it would not work with a Logitech optical wheel mouse. It's not much of a surprise as the optical mouse probably wasn't getting enough power supplied to it. I would have also liked to have seen at least one console port on the front of the unit, just to give it a bit more flexibility.
Other then that, the TrendNet TK-800R definitely has a few extra features built into it to make any network admin's life just that much easier, and consequently is a very solid product.