March 2002 PCstats Dream Machines
---
As reviewers, we are frequently asked what we would buy for our own personal dream systems. Since we spend eight hours a day, five or six days a week knee deep in processors, memory, motherboards, and other nifty computer products we have a pretty good vantage point to base our personal hardware buys on, which is always helpful. To make this little synopsis of what we really want (if we could aford it all!) even more fun, we have gone for the Ultimate components, and spared no "virtual" expense.
Now since I'm a gamer at heart I sometimes find it difficult to keep up with technology. If there is even one missed product cycle my machine could turn from the envy of all my friends to the slowest in the pact. Perhaps an inferiority complex has come over me, but I just want the fastest machine in the universe! What we have listed below are the current March 2002 PCstats Dream Machines!
With no real loyalties towards any company in the computer industry, we're going to be looking at an Intel based system and an AMD system. Why? Well, the Intel VS AMD wars go back almost as far as time itself, and neither processor has ever been able to deliver a "once and for all" knock out punch in terms of performance (flame me here).
First up is Chipzilla Intel
Processor: Pentium4 2.2 GHz

In terms of processor power, the Pentium4 2.2 GHz CPU is tops right now. Built on the 0.13 micron technology this Northwood Pentium 4 is simply the best Intel has to offer at the moment. Backed up by 512KB L2 cache and with SSE2 technology the 2.2 GHz P4 can take on even the most demanding programs and come out victorious. The sweetest thing for enthusiasts though is the 0.13 micron Pentium 4's overclock very well. Often times it will go close to 3 GHz with just air cooling! Imagine that 3,000 MHz! That's quite a nice number! =)
Weighing in at $925 CDN, the 2.2 GHz P4 is more expensive then most computers however!
Notables: Pentium 4 2A GHz - $625 CDN, Pentium 4 1.8A GHz - $349 CDN
Motherboard: Abit TH7II-RAID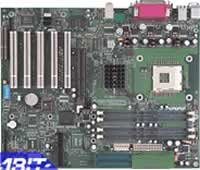 Abit has never shied away from enthusiasts, often times embracing their darker side full-on. I decided on a i850 board instead of all those DDR boards out there because only RDRAM currently has the bandwidth to satisfy the Pentium 4 processor, and not even those DDR333 based boards can suffice. We chose the RAID version because it's very handy to have an extra IDE controller (especially with HDD prices falling "like there's no tomorrow") and a person with a high end system is bound to use RAID. After all, why wouldn't you want twice the performance or have 100% data redundancy?
The going rate for the Abit TH7II-RAID is about $275 CDN.
Notables: Asus P4T-E - $270 CDN
RAM: 1 GB PC1066 RDRAM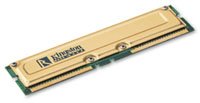 While SDRAM and DDR RAM have went up in price in the last half a year, RDRAM has either gone down or stayed the same. In fact, RDRAM is approx. the same as DDR RAM in terms of MB/$. Currently the fastest RDRAM is PC1066 which is certified to run at 533 MHz offering a 4.2 GB/s worth of memory bandwidth. While there are no Pentium 4's running on a 533 MHz FSB yet, they will be released soon. Overclockers will love the fact that this RAM should allow them to reach those high FSB's! PC1066 is almost impossible to get at the moment, however high quality PC800 RDRAM should be able to clock high as well.
Retail Price for 1 GB (4x256MB) of PC1066 RDRAM is $950 CDN
Notables: 1 GB (4x256MB) PC800 RDRAM - $600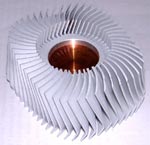 Heatsink: AVC Sunflower
Any overclocker will tell you that the only thing official Intel heatsinks are good for are being paperweights or maybe doorstops. The AVC (Asia Vital Corp) heatsink incorporates a copper slug in the center surrounded by aluminum fins with a 5400 RPM fan. It's a great choice for the overclocker who wants a great performing heatsink while maintaining a quiet PC.
The Sunflower is quite difficult to find, but if you do manage to track it down, you'll be very happy with its performance. Price for one of these babies is about $75CDN.