Soyo K7VTA B KT133 Motherboard Review
---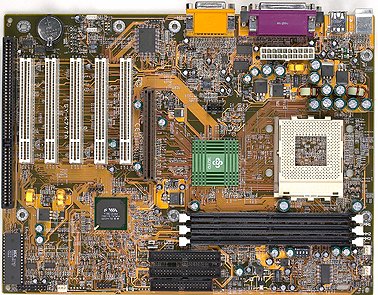 Some weeks ago, we reviewed a Socket A motherboard from Soyo, the 7KVTA. As promised, we are now looking at a revised version of the same model the Soyo 7KVTA B. These boards look almost identical but they do indeed have some significant differences between the two.
The earlier K7VTA is equipped with VIA's older Southbridge (82C686A) which supports a maximum of up to ATA 66, while the K7VTA B sports the latest ATA 100 capable Southbridge (82C686B).

Another significant enhancement on the 7KVTA B is the presence of multiplier adjustment. As you will soon see, this important addition makes this product a very attractive choice for extreme overclocking.

Features and Specifications

Our 7KVTA B is a retail product meaning that the tested board is equipped with exactly with the same features as other K7VTA B's sold in the retail market. Our Soyo K7VTA B contained the following material:


| | |
| --- | --- |
| · | The board itself |
| · | One ATA 66/100 cable & FDD cable |
| · | Board manual |
| · | One CD with motherboard drivers, including a full version of the manual in PDF format and a system monitoring utility |
| · | 8 in 1 bonus pack CD featuring Symantec Norton Antivirus 2000, Norton Ghost 6.03 OEM, Adobe ActiveShare, Adobe Acrobat Reader, Appio Personal Edition, X stop, Cute Dialer and Imagemore |
| · | Very high quality silicon compound for heatsink |

The board layout is very well designed as everything is where it should be. The vicinity around the CPU socket seems clean enough to handle a big heatsink. There are 3 fan connectors for fan operation which should be sufficient enough even for avid overclockers. Soyo has also included a few grams of high quality silicon compound for better CPU cooling. We must also note the presence of a thermal sensor inside the CPU socket in order to protect the processor from overheating.

DIMM slots are above the AGP socket about a half inch so memory can be uninstalled without having to remove the AGP video card first. In smaller ATX cases, the outermost DIMM socket might not be easily accessible as it is situated underneath a 5.25 drive bay. All IDE/FDD connectors are well within reach reach. Operation of the board is supported by 1 x 3300µF, 11x1500µF, 15x1000µF and 2x470µF capacitors (the older K7VTA has a different combination of capacitors).

After installing the CPU and other peripherals, the board automatically detected the CPU type & Front Side Bus (FSB) speed. There are a good number of BIOS FSB and CPU core voltage settings to permit for easy overclocking. Windows 98 installation went smoothly without hiccup.

Soyo has included a number of memory tweaking options such as Bank interleaving, Fast R/W turn around, etc.

Test Bed Setup

| | |
| --- | --- |
| · | AMD Duron 600 MHz |
| · | Tested boards: DFI AK74 EC (KT 133, ATA 100), DFI AK74 AC (KT 133A, ATA 100), Soyo 7KVTA B (KT 133,ATA 100) and Soyo K7VTA (KT 133, ATA 100) paired with VIA 4 in 1 drivers 4.25a |
| · | 128 MB PC 133 CAS 2 SDRAM |
| · | ELSA Erazor (Nvidia Geforce 256 DDR), Detonator 6.31 |
| · | Western Digital 30GB ATA 66 hard drive, 5400RPM (WD307AA) |
| · | Labway Xwave 6000 (sound card based on Yamaha 744b), 2013 drivers |

BIOS settings on all of the tested boards were tweaked for maximum performance (HCLK+33, CAS 2, Bank interleave etc). Quake3 scores were taken with sound enabled.