The power button on the Scorpio is black, while the rest of the case is silver, which does look a little odd, and unfortunately as with all cases of this design, the reset switch is recessed a little too much for my taste. Personally, I prefer reset buttons you can actually engage with your fingers, but I understand it is also useful to not have them protected against inadvertent use. The reset button is small, and flush to the bezel so you're not going to be able to hit if you blindly feeling around for the power button.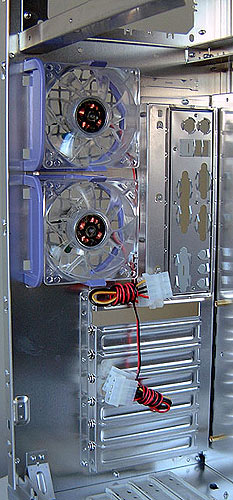 Next to these two power controls are a series of LED's - one for power and HDD activity, and then two alternate buttons for whatever you want.
Rounding out the other little features that might go unnoticed are four fold-out feet for added stability, an interchangeable I/O plate socket, quick change fan holders, a large front panel intake vent for case cooling, two rear exhaust fans with Molex passthru power cables, and nice rounded edges everywhere (no danger of cut fingers).
The Raidmax Scorpio is nice case for any system, and given the all-aluminum construction, a very light weight case for LAN party situations. The front bezel door is an interesting design, ablaze with a bright blue backlit "Z", and whether you like that or not is of personal taste.
With a metallic silver paint job, side case window with LED fan, and an industry proven case frame, Raidmax have certainly picked a winning solution.
Absent of a powersupply, the $80USD case offers good value in realistic terms. Most users looking for a case of this size are probably not going to be content with a bundled PSU, so the fact that there isn't one really doesn't disappoint.
The edges of all the punched out sheet aluminum are folded over so there is little chance of slicing a finger while installing components in the case. The 5.25" bay knockouts are surprisingly easy to remove, and in general, the case is just well laid out.
There are a few downsides to the case, but none of them are really permanent. The un-anodized aluminum can get a little sticky around the HDD caddies, and this can make removing or installing them difficult. I'd suggest putting down a few strips of regular old tape to prevent aluminum-on-aluminum scratches that would otherwise cause the HDD caddy to bind. The 0.7mm thick sheet aluminum the Scorpio is built from isn't all that thick, but under normal operating conditions I don't think it's a problem by any means. All things considered, the Raidmax Scorpio is a good case; it's built well enough, it looks "unique" (and the "z" pand can be removed... hint hint), and offers good functionality to the user.
Related Reviews
Melamine Foam Sound Proofing for the Computer Case
Noisecontrol Magic Fleece Sound Absorbing Material
Vantec Nexus NXP101 MultiFunction Controller
Vantec Nexus NXP201 Fan-Controller Review
Vantec Nexus NXP205 Fan-Controller Review
Zalman ZM-MFC1 Fan Speed Controller Review