We tested the range of the Actiontec HomePlug Ethernet adaptor kit throughout the PCstats labs by connecting one of the adaptors to a laptop and roaming from plug to plug. We found that the HomePlug adaptors maintained at least a 75% signal in areas which were too distant for our wireless access point to service. Bearing in mind that the maximum range of the technology is supposed to be 300M, this makes sense, as the distance between points that we tested is nowhere near that large.

Our results illustrate the one clear advantage that HomePlug networking and the Actiontec HomePlug Ethernet adaptor kit have over wireless networks; range. If want to deploy a wireless solution to a small number of devices and computers but are frustrated by range or obstructions, HomePlug networking might well be the answer you are looking for.
Networking performance
We tested the Actiontec HomePlug Ethernet adaptor kit's network performance using the NetIQ application. Two test systems were set up to link in peer-to-peer mode and tested on a variety of plugs throughout the PCstats labs. As we are located in a medium size commercial building, we were interested to see how the powerline networking dealt with this environment. For comparative purposes, benchmarks from wireless 802.11b and 802.11g products are included. Our second test involved transferring an 11.8MB test file and timing the transfer speed.
Actiontec Homeplug Ethernet adaptor NetIQ Tests

Actiontec Homeplug Ethernet adaptor
Average Throughput
5.878 Mbps
Response Time
2 ms
11.8Mb Test file transfer
~17 sec

Actiontec Homeplug Ethernet adaptor w.
56-bit DES Encryption enabled

Average Throughput
5.835Mbps
Response Time
2 ms
11.8Mb Test file transfer
~18sec
Ethernet Reference:
10/100 Wired Ethernet (typical)

61.5 Mbps

Wired Response Time

1ms

Wireless Ethernet reference:
802.11b wireless Ethernet (typical)

21.5 Mbps

802.11g wireless Ethernet (typical)

4.47Mbps
The performance of the Actiontec HomePlug Ethernet adaptor kit was decent, though much slower than typical wired 10/100 Ethernet, obviously. It does have a slight performance advantage over 802.11b wireless connections, though the difference is likely to be too small to notice. As we expected, enabling encryption made no performance difference to this product.
Conclusions
Unavoidably, the Actiontec HomePlug Ethernet adaptor kit is somewhat of a niche product. It does its job well, effectively networking devices over exisiting 120V AC copper wiring, but in general circumstances it's hard to recommend using Powerline networking instead of the now common wireless networking standards.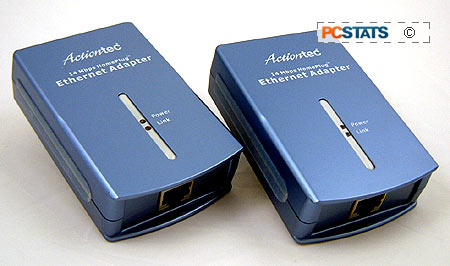 The range of the Actiontec kit is significantly greater than that of any non-signal boosted wireless access point, and it's not contrained by walls or other obstacles. If you have a large home or office and you need to network a few devices, HomePlug-based products like the Actionec devices we reviewed today may well be a better choice than buying enough wireless hardware to carry a signal to all corners, especially if the building construction makes wireless signal strength is an issue.
The other advantage that HomePlug devices and the Actiontec kit could be said to have over wireless is the fact that they are actually wired communication devices, and are not prone to the signal variances, dead spots and other oddities that all wireless devices seem to suffer from.
The Actiontec HomePlug Ethernet adaptor kit is extremely simple to set up and manage, so computer newcomers need not worry about being able to use them effectively. Our only concern with this product is the price. $129US is just too much to pay for networking two computers (or a computer and a gateway) together somewhat wirelessly. At this price point, the Actiontec HomePlug Ethernet adaptor kit is competing with 802.11g wireless devices and that's going to be a tough sell (despite the advantages we listed above) since 802.11g is considerably faster than the HomePlug standard. 802.11b wireless devices are cheaper and more or less equal in speed.
If you really need the extra range the Actiontec HomePlug Ethernet adaptor kit can provide over existing wireless networking products, or you can find a deal on it, it's an effective and easy way to network your home without laying cables. Otherwise, the product is simply too expensive against competing networking options.
Find out about this and many other reviews by joining the Weekly PCstats.com Newsletter today! Catch all of PCstats latest hardware reviews right here.
Related Articles
Here are a few other articles that you might enjoy as well...
1. MSI SW8G 8-Port Gigabit Ethernet Switch Review
2.
3. Transcend Wireless 128MB JetFlash Review
4. Gigabyte GN-B49G 802.11g Wireless Router Review