Doom 3 is the most advanced game to date. it takes advantage of the latest videocard technology and pushes the processing power of the CPU to its absolute limit. At its highest setting, Ultra quality, texture sizes pass the 500MB mark which means even tomorrow's videocards will have a hard time running everything. The frame rates in the game itself are locked at 60 fps so anything above that point is wasted. Each test is run three times with the third run being recorded.
Doom3
LQ 640x480:
FPS
Ranking
Albatron K8X890 Pro II (K8T890 200/400)
125.7
MSI RS480M2-IL (RS480 200/400)
110.4
Chaintech Zenith VNF4 Ultra (NF4 Ultra 200/400)
124.7
DFI LANParty NF4 SLI-DR (NF4 SLI 200/400)
126.9
ECS KN1 Extreme SLI (NF4 SLI 200/400)
124.4
Epox 9NPA+ SLI (NF4 SLI 200/400)
124.3
ASRock 939Dual-SATA2 (Uli M1695 200/400 7800GTX)
119.5
ASRock 939Dual-SATA2 (Uli M1695 200/400 GeForce 6800 AGP)
118.5
In our last benchmark Doom 3, the ASRock 939Dual-SATA2 motherboard does not trail the competition by much.
Future ready and excellent value!
Upgradability and future proofing is always a concern of every computer user. No one wants a shiny new PC to be obsolete quickly. Software has always had the flexibility of an easy upgrade path, however the hardware world is traditionally a lot more rigid. With hardware architectures so different between platforms, upgrading is often less practical that replacing 8-month old components entirely.
AMD's new DDR-2 RAM supporting Socket M2 processor is not exactly a secret, and most educated users know that the new socket will be implemented early 2006 - probably during CEBIT. Those who want top of the line performance right now (and tomorrow) have a dilemma, should they buy now or wait half a year? With the new ASRock 939Dual-SATA2 motherboard, the answer is much more flexible.
Based around the ULi M1695 Northbridge and M1567 Southbridge, the ASRock 939Dual-SATA2 motherboard offers the flexibility of running current Athlon64 processors while enabling support for Socket M2 processors when they are available. All the user need do is buy the "Future CPU Port" daughter card when it is available, a Socket M2 AMD processor and DDR2 memory.
With a retail price of $87 CDN ($74 US), the ASRock 939Dual-SATA2 motherboard offers upgrade options that higher end motherboards do not. For instance the DFI LANParty NF4 SLI-DR or Chaintech Zenith VNF4 Ultra, as fast as the two motherboards are, cannot be upgraded to Socket M2 but the ASRock motherboard can.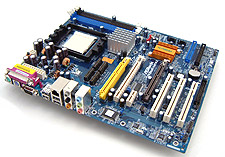 Those looking to upgrade older systems will also love the fact that the 939Dual-SATA2 even fully supports 8x AGP videocards. AGP performance with the ASRock 939Dual-SATA2 should be pretty clear by looking at the benchmarks. Business users who require a lot of real screen estate could even run two videocards together with upto four monitors!
Performance of the ASRock 939Dual-SATA2 motherboard was relatively good. It did come in near the bottom of most benchmarks we ran, but its scores were not drastically slow. The board overclocked to 304 MHz, which is certainly nothing to scoff at! Ultimately, if you're on a budget and looking for some flexibility, the ASRock 939Dual-SATA2 can definitely help consumers build a budget system that brings to the table some very attractive future upgrade options.
Find out about this and many other reviews by joining the Weekly PCstats.com Newsletter today! Catch all of PCstats latest hardware reviews right here.
Related Articles
Here are a few other articles that you might enjoy as well...
1. ECS PF88 Extreme Hybrid Intel/AMD Motherboard Review
2. Epox EP-9NPA+ SLI Motherboard Review
3. ABIT AN8-SLI nForce4-SLI Motherboard Review
4. ECS KN1 Extreme nForce 4 Ultra Motherboard Review
5. Asus A8N-SLI Premium Athlon64 Motherboard Review