Performance gains from a 52x over a 48x drive in this case are quite minimal. The importance of being on top with the fastest CD-ROM drive on the market is negligible as most users of CD-ROM drives use it for the installation of software. The only exception may be those who are limited on hard disk space and are looking to conserve available storage space where ever possible, hence using the CD-ROM drive as the medium to execute numerous applications.

For consumers who falls under this particular category, purchasing a quick CD-ROM drive may be in order, though as said above, there isn't much difference in 52x and 48x speed and really isn't worth shelling out the extra money to shed a couple of seconds off execution time.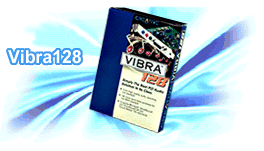 Packaged along with the Creative Vision multimedia kit is the Creative Vibra 128 sound card. No, it is not a 128-bit card (something similar to the confusion caused with AWE64) but rather the 128 in the title indicates the number of supported voices in the sound card. Creative is among one of the world leaders when it comes to the manufacture of sound cards. Not only are they among the largest manufacturers but are also popular hot sellers.
Creative's product line extends from the basic sound card for basic audio applications to the hare-core gaming market where added realism through sound is a must. This of course, is where most of the consumers are and hence, a larger share of the market. Creative does design their own audio chipsets as well as hosting others by manufacturers such as Ensoniq. Their Vibra 128 boards provide support for Environmental Audio, the same as that of their Soundblaster Live! series of sound cards which are based upon their ever popular EMU 10K1 chip.

Specifications

- 16-bit CD quality playback
- 48-KHz sampling rate
- 128-voice wave-table synthesizer
- 16 MIDI channels, 128 GM & GS compatible
- 2MB, 4MB and 8MB wave-table sample sets included
- PCI bus-mastering capabilities to stream audio from the card to the host memory without any need for onboard RAM
- Support for DirectSound, DirectSound3D and Environmental Audio in 2-speaker mode
- Sound Blaster PCI compatible

The Creative Vibra 128 is targeted to the cost-conscious consumer looking for decent audio playback quality which is no doubt why it is included with the Vision Multimedia kit. It is somewhat similar to the Sound Blaster 128 without support for 4 speakers and does not include a TV Tuner In or a Rear Speaker out (for obvious reasons).
This sound card was setup pretty much problem-free. Just plug in the card, install the drivers and you are ready to go! As there is no benchmark which can test sound quality, I went ahead and put it up against your good old AC97 audio codec and give my personal opinions about this. We all know that AC97 is your on-board sound audio and does prove for a cost-effective audio solution, but quality-wise, is it as good as your normal plug-in audio expansion card?
Before we answer that, here is my system which I connected the components to. As discerning audio quality can really be a pain sometimes, it certainly helps it by connecting PC sound to a relatively better system than your regular multimedia speakers.

Sound check equipment

- Carver HR-742 Sonic Holography Receiver
- Mirage M-790 Bi-polar audiophile loudspeakers
- Mirage M-290 bookshelf speakers
- NAD 502 CD Player

After connecting my PC up to this system the first thing I sampled was audio from an AC97 codec. After giving it a very long listen, I began to reaffirm my belief that most things integrated usually lack in quality. Through this test system, one can hear every detail with the utmost clarity. That would include "artifacts" in audio playback. And the AC97 was full of these "artifacts". Listening to a few MP3s through AC97 made evident the slight shrilly noise accompanied with every played back note especially through the tweeters. Even while playing Unreal Tournament and Quake3, the sound of deep bass sounded as though a few pieces of loose gravel was rattling through the speakers.
Initially, I thought something was wrong with the speakers until I connected the Vibra 128. Sound quality went through a much needed improvement and gameplay became a lot more pleasurable. The environmental audio aspect of the card did add a couple of esoteric highlights though it was not as evident in the Vibra 128 due to its lack of 4-speaker support. When playing back CDs through the Vibra 128, the sound was flattened out a bit compared to the NAD 502 CD Player. The bass wasn't as tight and the highs weren't so sharp.
The lack of the warm mid-range frequencies was pretty obvious as well. Maybe I am judging the Vibra 128 on parameters which were not supposed to be tested against as this sound card is not aimed at the higher-end of the spectrum. But never less when purchasing a sound card, one should know which one provides better quality playback through any medium. Distortion was not a problem as the Vibra 128's signal passed on to the receiver is alot cleaner than its AC97 counterpart. As long as you are no hardcore audio enthusiast, this sound card will not envoke any criticism from its end-users.
Aside from sound quality one of the important aspects, especially towards performance hungry hardcore gamers, is the amount of system resources a sound card will use. Too much dependance on the CPU will definitely be the cause of lower frame rates. You wouldn't want to be in Quake3 Arena just about to win the match when...BOOM!... frame rates drop to an extreme low causing you to hesitate and avoid dodging a rocket aimed straight towards you. So I took of liberty of running the Ziff - Davis Audio Winbench 99 to test the amount of CPU utilization used on the Vibra 128 and the AC97 audio codec.