In every single test, the AC97 audio codec takes the lead in the amount of CPU horsepower used. And often more than 5 times the Vibra 128. What this means is that the Vibra 128 is a much more viable solution when it comes down to applications that involve intense graphics and audio (such as Quake 3) where the need for CPU speed is needed down the last drop. So if you are seriously into gaming, then you should already know that the AC97 audio codec is more of a burden than a luxury and it is time to upgrade. For relatively clear audio that isn't much of a CPU hog, the Vibra 128 doesn't seem like such a bad option...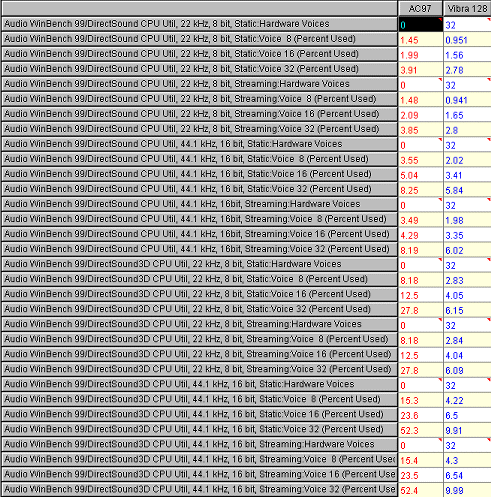 Creative SBS20 Speakers

In order to make the Creative Vision kit as cost-effective as it is, a pair of Creative SBS20 speakers have been included in the package. If purchased separately, a pair of these will cost you around $30 dollars. These speakers are not really anything fancy and you can't expect much for the price you pay. Here are the specifications of the SBS20 speakers.

Specifications

- Amplified speakers providing 2.5 watts (RMS) of power per channel
- 3" full range driver
- Mute button, volume, bass, treble controls and a headphone jack
- Magnetically shielded to prevent the leakage of any magnetic interference
- 7" x 3-3/8" x 4 1/2"
- 9V DC power input

Well not much really to elaborate on. But if you look at the 3" full range driver, you may wonder at what the heck you were doing purchasing such a speaker. That is surely what I thought. After powering up and loading up Unreal Tournament, I was pretty surprised at the punch these speakers pack. Of course, my surprise was weighed against that 3" driver and its cost. The sound is relatively clear and the mid-range is probably most prominent of all.
If you are looking for bass, you need to look somewhere else. Even when the volume was turned up all the way, there was only a small amount of distortion caused by the speaker and a bit caused by the resonance of the plastic casing. Of course, the distortion isn't that noticeable considering the fact that you can't really hear it over the actual sound that is coming out of the unit. The experience of gameplay certainly isn't anything compared to the Carver / Mirage setup, but then again, the Carver / Mirage cost me alot more than $30! ;)

The SBS20s delivered a bit more than I expected out of such a speaker. This is probably due to the fact that they have been designed by Cambridge Soundworks. Not exactly an audio enthusiasts number one company, but they certainly do deliver products whose quality is above the norm. Overall, if you simply want basic audio for your Windows startup sounds and simple multimedia applications, then these speakers are very well suited for you.