The small grey cube which measures 30cmx12cmx19cm weighs in a hefty 14.5 kg (32 pounds). The two batteries are heavy as is the internal transformer so it's not surprising.
The front of the UPS 800VA is easy to understand, the green LED tells users everything is okay and that power voltages are in check. A yellow LED indicates when power voltages are either too high or too low and the battery is in use. Lastly, A red LED warns users that the internal batteries are critically low or dead.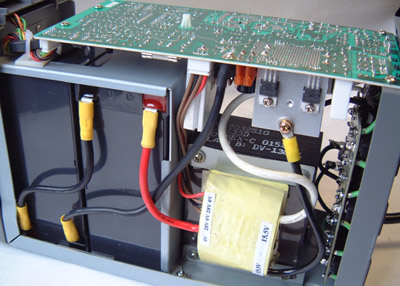 The innards...
One of the cool features of the UPS 800VA is it's ability to also regulate the power signal going to the computer. Automatic Voltage Regulation (AVR for short) this is most useful when brown outs occur (when voltage dips below 90 Volts). During such periods the UPS 800VA will switch to battery mode for the duration of the brown out to ensure the computer is getting clean and steady voltage (between 110V-120V).
Should the UPS 800VA fail during the three year warranty period and data is lost, Belkin will provide their customers with professional data recovery services free of charge. There is also a $150,000 connected equipment warranty as well. It's nice to see Belkin not only warranty their products, but guarantee that devices attached to the UPS will not get damaged as well!
Goes to show you what Belkin thinks of its own products!