With a computer and 17" monitor connected to the UPS, we unplugged it from the wall and watched it drain. The computer was left idling with all power saving features disabled.
Battery Life Test
Computer
Time
1.

Belkin UPS 800VA

40 min 37 sec
The 800VA lasts an amazing 40 min with a 17" monitor and a computer connected to it! If you can't save or finish what you need in 40 min you're in trouble. The advertised rating is 45min, so the test came very close which is good to see.
Conclusions:
Overall we are very impressed with the Belkin Universal UPS 800VA, and the level of features Belkin have managed to squeeze into what is essentially a battery. It is these features which mean the difference between baby-sitting a computer during a power outage, or resting comfortably with the knowledge that in the even of a power problem the UPS will take care of things itself.
Of course for these measures to kick in the computer must be connected to the unit, and this was the only place we experienced some problems. Occasionally the computer would loose a connection to the UPS and thus lose the ability to monitor its status or interact with it. This only happened twice though.
A good clean supply of electrical power is not going to turn the heads of everyone, but for anyone who has lost that late night essay, or work to a power outage you know how important a UPS can be. Filtered power is more difficult to quantify since it is something we can never really see first hand. It's hard to say that computer X crashed not because of windows, but because of some problem with the power signal because we simply never know in those cases.
With that in mind, and knowing that jitter and power signal quality do vary, it is obviously better to remove those potential problems from the equation so we are glad to the UPS also includes the AVR system. With a $150,000 connected equipment warranty what more do you have to say about Belkin and what they think of their own UPS! With real world backup time of just over 40 minutes the Belkin Universal UPS 800VA offers enough to whether the power blackout or save your files and then shut down. With surge suppression for RJ11 phone or RJ45 Ethernet cables it removes the chances of surges damaging modems or NIC cards through unforseen circumstances. For critical systems, or environments where power is spotty, a UPS like the Belkin 800VA is a must have, and a good investment in piece of mind.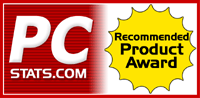 Related Articles:
Here are a few other articles that you might enjoy as well...