Quick Seven-Stick DDR Memory Roundup
---
With Intel now fully embracing DDR based memory, the market is flooded with DDR RAM. In fact generic 256MB PC2100 DDR can be found for as little as $60 CDN ($40 USD) while generic 256MB PC2700 DDR can be had for just $100 CDN ($60 USD). Name brand stuff is a little more expensive; Crucial 256MB PC2100 runs about $90 CDN but then again you pay for the added quality and warranty.
We all know that memory is one of the most important things in a computer, yet when people are buying it they often choose the cheapest parts. Overclockers have scoured the world trying to get their hands on the best memory available so it is to them that we look for insight.
Today we're going to be pitting seven sticks of DDR RAM against each other in a huge battle royal to see who will be victorious. We're only interested in the overclocking numbers and o ur combatants are all 256MB in size. The sticks in no particular order are; Generic PC2100, Crucial PC2100, Crucial PC2700, Corsair XMS2400, OCZ PC2400, OCZ PC3000, Mushkin PC2100 and KingMAX PC2700.
Overclocking Notes: The testing motherboard we're using is the Epox 8K3A+ because it lets us tweak the DRAM voltage tweaks up to 3.2V. Most other motherboards will only go up to 2.8-2.9V so we only used a max of 2.9V for testing purposes to keep things fair. If a certain stick of memory performed better at 3.2V, we will note that, but those results were not included in the benchmarks. The DRAM was set to most aggressive settings in the BIOS unless otherwise noted.
256MB Generic PC2100 DDR
Our overclocking attempts with the Generic PC2100 DDR were actually pretty good. The stick use Micron DRAM with a 7.5 ns rating and upon closer inspection we found that the PCB of the DIMM was actually made by PowerMEM. It was able to overclock all the way up to 166 MHz FSB using a voltage of 2.9V.
We've been big fans of Crucial memory for the longest time now, Crucial has always produced quality memory for a very competitive price and their 256MB PC2100 DDR is no exception. Obviously the Crucial stick of RAM uses Micron DRAM at a 7.5ns DRAM timing. This is the same as the Generic PC2100, Corsair XMS2400 and the OCZ PC2400 DDR. The Crucial DRAM was a decent overclocker, hitting a high of 168 MHz FSB with a voltage of 2.9V. Raising the voltages to 3.2V allowed us to run at 170 MHz stable, however the DRAM got quite hot and melted into a big pile of smoldering plastic.... naw, just kidding!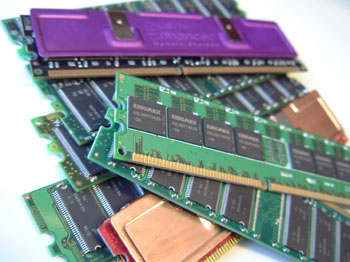 Crucial was blasted by the hardware community for not coming out with their PC2700 DDR memory sooner, but there was little to be done. The reason behind the delay was because JEDEC was very slow in approving the PC2700 standard, so it wasn't really Crucial's fault. Almost immediately after the PC2700 was approved, Crucial announced that they had PC2700 compliant DIMM's rather then compatible like other manufacturers. In terms of overclocking we were a little disappointed at the DIMM since it did 180 MHz FSB at a voltage of 2.7. Raising the voltages didn't help get us any higher.
Corsair is another company that has been producing some of the highest quality memory for a while now and their XMS line of memory is no exception. Corsair guarantees that their XMS2400 will run at a 150 MHz FSB with all the fastest memory timings set in the BIOS and our Corsair XMS2400 didn't disappoint us either. It was able to hit 171 MHz FSB with a DIMM voltage of 2.9V.
OCZ products try to target the enthusiast market and have been supplying them with some different speeds of memory for a while now. They were one of the first to come with DDR RAM that would do well above it's rated spec, and the PC2400 DDR RAM they have is pretty good as well. Using 7.5ns Micron DRAM it topped out at a 170 MHz FSB with a voltage of 2.9V.
When we looked at their PC3000 DDR RAM we were a little disappointed to be honest. Supposedly using hand picked Samsung DRAM this memory does clock very high, but will not budge 1 MHz past 133 MHz with the fastest memory timings. In fact it will only POST with the most conservative memory timings used. In terms of overclocking this memory is a beast, it would do 208 MHz FSB with a voltage of 2.8V! Another funny thing was the PC3000 DIMM didn't like higher voltages. Please note, the overclocked PC3000 DDR is running with the most conservative memory timings.
Back in the day of SDRAM, Mushkin was king with their PC-150 SDRAM. Their PC2100 DIMM is pure quality as well. Using 7ns Nanya DRAM we were able to hit an amazing 175 MHz FSB! That is quite a feat for PC2100 DDR RAM! With cool looking purple heat spreaders and a black PCB, it wa also one of the most stylish DIMM's... perhaps Prada had a hand here. :)
KingMAX is famous for their BGA DRAM. It's supposed to produce less heat and scales better then older TSOP-II DRAM at high speeds. It certainly looks cool with all those small (cute) BGA DRAM on the DIMM. Overclocking was a mixed bag like the Crucial PC2700, the DRAM would only hit 179 MHz FSB with a voltage of 2.9V.