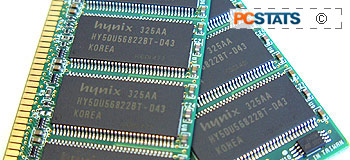 Things are a bit different on the Intel side of things as bandwidth has always been more important to the processor than memory latency.
With that said, we still ran our usual AMD and Intel tests just to satisfy your requests for such - so let's see how these two 256MB sticks of PC4300 Buffalo memory perform!
Pushing the memory to the brink
On PCStats' AMD test platform the PC4300 Buffalo memory would not run at 2-2-2-5 timings even at 200 MHz FSB, regardless of voltages. We had to loosen the timings to 2-3-3-6 in order for the memory to work. As for overclocking, we found it quite easy to overclock the Buffalo DDR533 memory modules, and amazingly reach as high as 227 MHz FSB without having to increase the memory voltage past 2.6V.
Speeds higher than 227 MHz with those timings, and benchmarks like 3DMark or Quake III would start to produce errors. Raising the voltage or raising the memory timings did nothing to fix this. This was based on the results with an Epox 8RGA+ motherboard, on which a pair of Corsair XMS35300 CAS2 DIMM's run at 230 MHz FSB.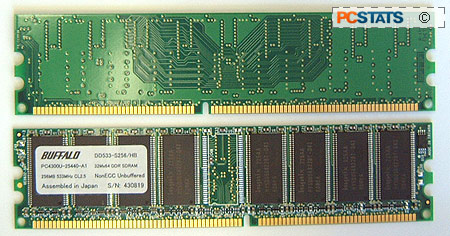 After those results on an AMD platform, we had some high hopes for overclocking the Buffalo PC4300 DDR on an Intel based system. So after installing the DIMM's into an Abit IS7 motherboard the FSB was raised to 250 MHz (with GAT set to Street Racer). The result? The Buffalo PC4300 memory worked flawlessly, just as we would have expected!
When I tried to tighten the timings, things did not go nicely; no matter what setting was used, the Buffalo PC4300 memory would not work at high speeds (ie 250MHz) with anything more than an SPD of 2.5-4-4-8.
At 260 MHz FSB I ran into a few stability problems with the PC4300 and had to raise the memory voltage to 2.7V. In the end the modules were able to hit 263 MHz FSB with a voltage of 2.8V, and default timings. That's just short of the 266/533 MHz rating, but I suspect the ABit's memory controller was holding things back.
On a side note, the Buffalo PC4300 DDR worked just fine with either the 5:4 and 3:2 memory dividers. Now, on to the benchmarks!