AMD AthlonXP 2400+ Processor Review
---
The Athlon has always been a very capable processor, often able to rival Intel's flagship processors for the performance crown while maintaining an excellent level of value. It seems though that AMD has hit a snag with their 0.13 micron manufacturing process. Going down to a 0.13 micron manufacturing process is quite difficult and more than a few other FAB's, like TSMC for example are having difficulty with the process. With the first revision Thoroughbred hitting a top speed of around 1.9-2 GHz things didn't weren't looking to good for AMD in the battle against Intel. So what exactly did AMD do to turn things around?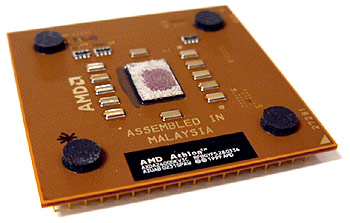 A Revised Core and PR numbers:
AMD has reorganized the Athlon XP Thoroughbred core and more importantly, they've added a 9th metal layer. The reason behind this was to give transistors more room to operate, and allow for cleaner signals between them. With this 9th metal layer, the overall transistor count has gone up from 37.2 million in the original Thoroughbred (T-Bred A), to 37.6 million in the new Thoroughbred (T-Bred B).
One nagging problem that AMD has always had to face since the dawn of the Intel Pentium 4 is the numbers game. With the Pentium 4, Intel has sacrificed IPC (Instructions Per Clock) to go with a CPU pipeline which allows them to clock the processor much higher.
To the uneducated consumer masses, it sounds like the Pentium 4's are much faster then Athlon processors, but that couldn't be farther from the truth. A P4 usually needs about 500 MHz "clock" advantage to perform on par with a lower clocked AthlonXP. Both Intel and AMD know that it's GHz that sell and so the performance rating was born.
The AthlonXP PR numbers are based on how fast the older Thunderbird Athlon would have to run. For instance, (taking an AthlonXP 1500+ as the example processor) it would take a regular Athlon to run at 1.50 GHz to equal the performance of an AthlonXP running at 1.33 GHz. As the actual clock speed is raised 66 MHz, the PR numbers is raised 100 (MHz). While this works at lower speeds, the higher you go the larger the gap is.
To address this, AMD has revised their XP rating system a bit. Their previous top end processor the XP2200+ has a clock speed of 1.8 GHz, so using the old system the test XP2400+ should only be running at 1.93 GHz, however the test sample runs at 2 GHz. It's a good step, but AMD will probably need to revise their PR system yet again in the future.
Overclocking:
We were very interested to see how high we could push the 'little' Athlon XP 2400+ chip. HardOCP and Anandtech were both able to hit 2.3-2.4 GHz with their test CPU's and I was starting to get excited at the possibility before me.

Using a Thermalright SK-6 with a 40CFM YS Tech fan we set out on our overclocking adventures. Unfortunately the processor was locked by default at 15x so we could only up the FSB to overclock the processor.
I was a good overclocker and upped the FSB slowly, 2 MHz at a time. It reached as high as 144 MHz on default voltage and then a few stability problems started to occur. The voltage was increased to 1.8V in order to stabilize the CPU, and I began going higher again. At 150 MHz FSB, the chip seemed to hit a wall. No matter what voltage level was used (up to as high as 2.2V) I wasn't able to get this particular Athlon XP 2400+ above the 150 MHz mark!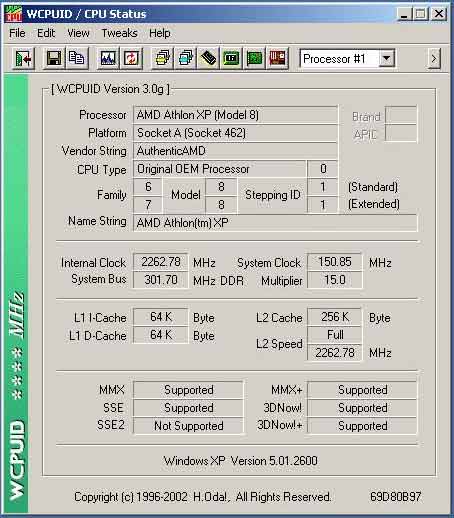 The chip would POST up to 166 MHz FSB, but anything higher then 150 MHz FSB and WindowsXP just wouldn't load up. I know overclocking is luck of the draw, but I was hoping for a bit more. Perhaps with a better Heatsink like the Thermalright SLK-800 we'll be able to push it higher.