Hard Drives and Serial ATA
Serial ATA is one of those things that was talked about for the longest time but never really saw the light of day until recently. Serial ATA was developed to replace the old parallel ATA storage interface, so you can bet your next hard drive its going to be much faster and more efficient.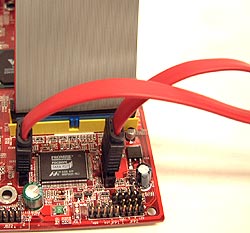 Serial ATA's main benefit is its scalability (parallel ATA is reaching it's limit at the Ultra/133 standard). Current Serial ATA devices work at Ultra/150 speeds, but future versions are expected to run at 300/600 MB/s!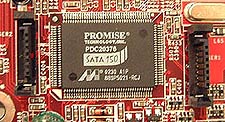 SATA devices require much less power then conventional parallel ATA devices (250 mV Serial ATA VS 5V Parallel ATA), use a smaller wire, and basically represent one of the biggest fundamental changes in how computers communicate with storage devices in a long, long time.
The bright red cables are just 8mm wide, and that is quite a change compared to the 50mm wide ribbon cables that we are accustomed to using with ATA100/133 devices right now. Smaller cables help keep cases less cluttered, promote better airflow, and make it easier to find things when you need to go digging inside a case. No Serial ATA hard drives were available at the time of this review so we are unable to test that feature on the KT4 Ultra. Look for a review on Serial ATA technology, and a look at the hardware soon!
Gigabit Ethernet LOM (Lan on Motherboard)
To quell our ever increasing thirst for speed and bandwidth, MSI have taken the liberty of adding onboard Gigabit LAN (10/100/1000!) care of the Broadcom BCM5702CKFB BGA controller. While Gigabit LAN's are not widespread at the home level right now, its a really nice bit of future proofing to have. And hey, if you happen to have a Gigabit connection to your switch you are sitting pretty!
The Broadcom specsheets incidentally list this controller as "server class reliability" but testing that claim out is beyond the scope of this review.
The Broadcom BCM5702CKFB controller is a fully integrated 32-bit 10/100/1000BASE-T Gigabit Ethernet Media Access Control and Physical Layer Transceiver solution.

The BCM5702 combines PCI bus interfaces, on-chip buffer memory, and integrated physical layer transceiver (PHY) in a single device. Based on a low-voltage 0.13um CMOS process , the single BGA chipset is reportedly fine for use in zero-airflow environments.

The BCM5702 supports with full/half-duplex capability at all speeds, and includes an on-chip power circuit controller, WOL, and CPU task off load capability. Windows 98/NT/2000/XP and Linux 2.2/2.4 are the supported OS's.
A little on RAID...
IDE RAID 0 is not really considered a true RAID since there isn't any data redundancy. RAID 0 takes two drives of the same size/configuration and stripes them, meaning it makes one big drive out of two equal ones. This improves performance by cutting hard drive latency in half. Since the data is divided equally and written on two hard drives it also increases the data bandwidth by two. The reason it's not considered true RAID is because if one drive fails, all data is lost.
IDE RAID 1 on the other hand mirrors two drives of the same size, so in theory if one drive fails, the other will take over as the primary hard drive and the system can continue to operate normally. This is what is supposed to happen with a SCSI hard drive setup and it actually works pretty well there.
The IDE subsystem doesn't allow hard drives to be disconnected while the computer is still powered up and in use like SCSI can unless you have a special HDD tray. Generally, when one IDE drive fails the system usually locks up anyway. The data is safe since it's mirrored on the other drive which is the real benefit.
With IDE RAID 0+1, you need four hard drives of the same configuration/size. What RAID 0+1 does is stripes two sets of two hard drives, one set for a RAID 0 configuration and the other for RAID 1. What this does is offer the best of both worlds, the high performance of RAID 0, with 100% data redundancy of RAID 1. Hence the name RAID 0+1. The only downside would be the need for four identical hard drives.