Quake III Arena is a First Person Shooter (FPS) that revolutionized gaming as we know it. Using multiple light sources and having graphics textures that can fill videocards, even after 3 years it's still able to bring a cutting edge system to its knees.
Quake III Arena Fastest demo001 (SYSTEM)

Motherboard (FSB/Memory)

FPS
Ranking
1.

KT4 Ultra 133/400 MHz

273.6
2.

KT4 Ultra 185/370 MHz

306.5
Quake III Arena Fastest nv15demo (CPU STRESS)

Motherboard (FSB/Memory)

FPS
Ranking
1.

KT4 Ultra 133/400 MHz

85.4
2.

KT4 Ultra 185/370 MHz

88.8
Quake III Arena seems to get a nice performance boost out of overclocking as well!

Conclusions on the KT4 Ultra: Feature Packed!

The MSI KT4 Ultra-FISR is one of the best AMD motherboards we've ever tested. In terms of hardware features, the MSI KT4 Ultra-FISR has absolutely no rivals. What other motherboard out there has onboard 5.1 audio (hardware), Gigabit ethernet (10/100/1000), IEEE 1934 (firewire), USB 2.0, optional bluetooth , Serial ATA, IDE RAID, 8x AGP, six PCI's and three DDR400 compatible DIMM slots? None comes to my mind.

We were a bit surprised by the fact that the VIA KT400 chipset doesn't seem to perform better then the older KT333 based motherboards that we've tested in the past... To be honest though, we're not really surprised since the Athlon can't take advantage of the extra memory bandwidth that the KT400 offers.
Only when AMD raises the FSB from 266 MHz will the extra bandwidth be useful. Since we tested the MSI KT4 Ultra-FISR using the ECS AG400 (Xabre400) we were not able to adjust the AGP mode we can't really test the performance difference between AGP 8x and AGP 4x.
AMD has removed the four holes that surround the CPU socket from its specs, and consequently they are also absent on this motherboard. It would have been nice to see the KT4 Ultra still with them, as owners of larger heatsinks like the Swiftech MCX462 and Alpha PAL8045 will be very disappointed that their heatsinks will not work with this motherboard.
Since the KT4 Ultra-FISR is still beta we're not really sure how much the board will retail for, but knowing MSI the motherboard will be a real steal. With so many high quality integrated features this board pretty much has everything you need right from the box.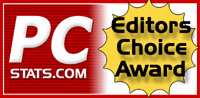 Related Articles:
Here are a few other articles that you might enjoy as well...