MSI KT4 Ultra-FISR KT400 Motherboard Review
---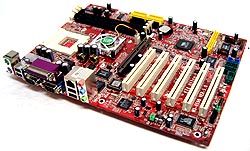 It's nice to see that MSI continually upgrade their boards to the latest technological goodness. From our standpoint, we have been seeing the adoption of new devices and on board features from the days of the original KT266 chipset. More recently, MSI have adopted bluetooth and the very alluring 8X AGP.
I suppose even D-LED counts towards the score card. This time however, it is the two little black sockets on the MSI KT4 Ultra-FISR which are revolutionary, and actually really exciting... for a techie anyway :)
Before we get into that, you should know that the KT4 Ultra-FISR is based on the brand new the VIA KT400 chipset. The KT400 chipset supports AthlonXP processors at FSB's of 100MHz, 133MHz, and the tantalizing 166MHz. Now even with on board IEEE1394 and bluetooth support, it is really those two small Serial ATA 150 connectors which manage to draw our undivided attention.
Serial ATA is the new spec for connecting devices like hard drives, and marks the end of a long history with IDE. As you will see, Serial ATA cables are really tiny and operate on a point-to-point topology (the drives are not yet available so we can't offer any benchmarks at this time unfortunately). Looking around the cramped PCB on the MSI KT4 Ultra-FISR, we can say it's easily the most equipped motherboard we've ever tested!
msi kt4 ultra-fisr motherboard

Ships with the following:

IDE ATA66/100 Cable
Two Serial ATA Cables
FDD Cable
Driver CD
RAID Driver Disk
MSI DVD
User Manual
USB Cable
DLED Bracket
IEEE 1394 Bracket

Brackets:



The KT4 Ultra features; on board 5.1 hardware based audio, three IEEE 1394 (Firewire ) ports, six USB 2.0 (thanks to the VT8235 southbridge), a Gigabit ethernet (10/100/1000!) RJ45 jack, optional bluetooth capability , two Serial ATA ports plus one regular Ultra/133 IDE port, three DDR400 compatible DIMM slots, six PCI slots and 8x AGP!
Did MSI miss anything with this motherboard? No I don't think so! Everything but the kitchen sink is here, and three expansion brackets round out the list of included gear. The price range is around the $150US mark, which is pretty impressive in an of itself.
Overclocking:
MSI motherboards have always been well rounded with great hardware features and good prices, but they've usually never really been regarded as supernatural overclockers. With some mighty impressive overclocking options in the KT4 Ultra BIOS, some hand picked Corsair memory, and some mighty high hopes, we set forth for a little OC adventure.
Knowing that the Corsair XMS3200 was capable of walking the 200 MHz waltz, I immediately lowered the multiplier and up'ed the FSB to 200 MHz. I know I always tell you guys to be patient and go slowly but I never follow those rules.
At 200 MHz, the system was a no-go no matter what I tried. A bit disappointed, I reset the CMOS then tried 190 MHz FSB but still nothing. Finally after tinkering with the board I settled on a maximum FSB of 185 MHz. Not too shabby, but not the best overclock either. Hopefully retail boards will overclock better then this beta one.
Around the Socket: Heatsink Clearances
pcstats heatsink clearance measurements

Top Clearance:
10mm
Bottom (cam) Clearance:
10mm
Left Side (arm) Clearance:
24mm
Right Side Clearance
15mm
Socket Mounting Holes:
none
Max. Heatsink Base Dimensions (wxh):
~87x84 mm

Note: Approx. measurements are made from the edge of the socket (not the clips) to the closest obstacle taller than the ZIF socket itself. The socket is 51mm across, and 62mm from top to bottom.
Our biggest qualm with the KT4 Ultra is the absence of the four heatsink mounting holes. Other then that, if one uses a large clip on heatsink, there is nothing to block your way.