MSI G4MX440-VTD8X Videocard Review
---
Like every new technology standard to arrive, "8X AGP" has eagerly been picked up by videocard manufacturers; if your videocard or motherboard isn't 8X AGP compatible you're using old tech - and who really wants to have old technology?
Today we're going to check out MSI's newest addition to their family of video cards, the GeForce4 MX440-8X based videocard. Will 8X AGP breath new life into the old DirectX 7 based GPU? I think so.
We've always liked MSI videocards around here because they offer excellent value for the dollar, and the MSI G4MX440-VTD8X continues in that tradition no differently. There is a small pile of goodies that come bundled with this 8X AGP videocard including; all the cables you'll ever need, a DVI to analog converter, an S-Video Extension cable and a complete VIVO module.
In terms of software, MSI bundle in Virtual Drive and Restore software, MSI DVD, Foreign Language Learning software, WinProducer and WinCoder plus the professional user pack, a seven game demo CD and three full version games (Ghost Recon, Duke Nukem: Manhattan Project and Morrowind).
On a side note, we're a bit surprised that MSI chose to include Morrowind in their software package since the G4MX440-VTD8X doesn't support pixel shaders.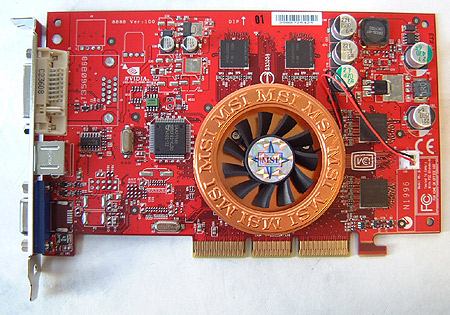 As you can see, the MSI G4MX440-VTD8X uses a pretty red PCB, with a nifty little all-aluminum radial heatsink on the core. I know you are tempted to say "hey that looks like copper", but don't be mistaken - it's just anodized aluminium.
The GeForce4 MX440-8X core is backed up by 64MB of 3.6ns Hynix BGA DDR RAM. When we remove the GPU cooler to check the core we found that was nicely mounted with a good amount of thermal compound. It may be a small detail, but I really just don't have any faith in TIM for videocards.
If you'd like to learn a bit more on the GeForce4 MX440-8X technology please read our Prolink PixelView GeForce4 MX440-8X review.
Overclocking the MSI MX440-8X Videocard: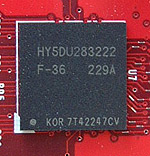 Clocked at the standard MX440 speeds (Core: 270MHz / Memory: 400MHz) we began to overclock the core first.
In general I've found that GeForce4 MX cores overclock pretty well. The first speed I tried was 300 MHz and there were no problems. We then began upping the core speed by 5 MHz increments and hit 350 MHz, 375 MHz, and even 400 MHz core speed with no problems! In fact, the core only started to lock up in games when we pushed it past 415 MHz - pretty impressive!
Since the Hynix DDR memory is rated at 3.6ns 550 MHz is an easy shot, and that's the first setting we tried. The memory didn't even blip at that speed, and so we continued pushing it up 10 MHz at a time. The 600 MHz barrier went right by, and then the 650MHz barrier, and even 700 MHz with out any artifacts!
However, this isn't going to be an endless ride to the Gigahertz, and 713 MHz brought things back to the cold hard reality that artifacts do indeed exist. At that speed the artifact tester would start to register artifacts, even though they weren't really visible until we pushed the memory up to 720 MHz.
I'm frankly a little stunned at how well this card overclocked; moving from merely 270MHz/400MHz to 415MHz/713MHz is nothing to scoff at, especially for a budget videocard!