A 42 inch screen is sheer bliss
Plasma displays share a few common points with LCD displays when it comes to the specsheet; both measure brightness in nits (cd/m2) and use contrast ratio's to describe a particular visual quality of the picture. With a resolution of 852x480, the Samsung Tantus SPL4225 features a screen brightness of 600 cd/m2 and a contrast ratio of 700:1.
Before we reviewed this unit, we spent some time in a local electronics store looking at side-by-side displays of plasma's and rear projection HDTV's. Regardless of brand names, it is that plasma technology has just offers so much more - better colour, better viewing angles, and a sharper picture. Rear projection HDTV's offer very decent pictures when you are within the right viewing angle, and the correct distance away. But a plasma display just takes those constraints and tosses them out the window - though, because of the size of this display, a good six feet distance (or more) is recommended for movie watching.
Since we were unable to do any direct comparisons between the Samsung SPL4225 plasma screen and other manufacturer's examples, we'll leave our comments to this model specifically. In that sense though, the colour representation appeared very good, with flesh tones rendering nicely.
With the abundance of signal inputs on the SPL4225 we decided to run a little test to see just how dramatic the difference was between the four types of video input. The Matrix was loaded into the DVD player and paused at one particular screen. With the lights in the room off, we took four sequential photos as the Samsung plasma display was cycled through each of its signal inputs.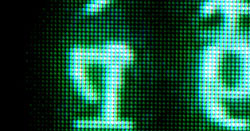 We used a similar technique before when we reviewed the HCL473W rear projection HDTV and the differences between each signal type was very obvious. In this instance, the picture remained very consistent; colour saturation did change slightly with each connection type however. The component video inputs offered the best overall picture which is to be expected, followed by the RCA video composite connection and S-Video in a distant last place. The S-Video cable was responsible for a really washed out picture, whereas the component input signal (Y, Pb, Pr) was much more vibrant and colour rich.
Speaking of colours, plasma displays are limited to displaying 16.7 million colours, so very subtle transitions tend to be more "stepped" in appearance under close inspection. Luckily, unlike and LCD display which is designed to be seen from pretty close up, plasma display are best watched from a distance which causes these barely noticeable traits to blend away.
Reflections in the screen and on the screen; what to worry about and what to ignore
The listed viewing angles on the Samsung SPL4225 are 160 degrees vertical, and 160 degrees horizontal. On an LCD display for example, moving past the threshold of the viewing angles tends to impact the colour saturation of the display, and make it appear to "gray out." On plasma screens like this massive 42" slab, something else happens.
Because the actual plasma panel is protected by a sheet of coated glass/plastic which sits a few millimeters above it, internal reflections can start to accrue at very large obtuse angles of 160-180 degrees. From a distance these reflections are not very noticeable, but if you were relatively close they would be visible. Hence, it is a good idea to keep the display oriented in such a way that people viewing it are alway well within the stated 160 degree viewing angles.
In each of these two images, taken at a steep angle to the screen from the upper left corner, reflections become visible. In the grand scheme of things you do not need to worry about this as not many of us would ever try to watch a movie like this.

The other possible issue which can crop up with a large display like this is reflection of room lights, or other bright areas, on the screen to the extent that the actual displayed image becomes obscured.

As we mentioned previously, the plasma component sits behind a protective sheet of specially coated glass or plastic. This translucent material is not perfectly flat, but seems to contains very shallow irregularities which may help make it a poor reflective surface. The fact that we can sit in a typically lit room and watch a movie without being overly distracted by reflecting light off objects in the background is testament to the thought behind the screen.
Since we are looking at what is essentially a large flat sheet of glass, reflections are something which cannot be avoided completely of course, so the room housing the display should be set up in such a way that background reflections are minimized. Reflections can be a sore spot for some consumers, but we found the Samsung SPL4225 produced only minimal reflections under ambient lighting.
Pixels and image quality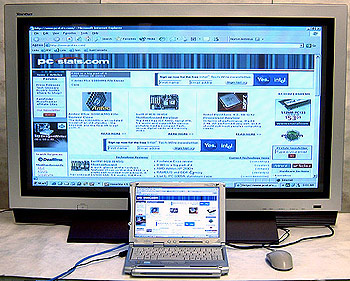 Plasma displays are made up of relatively "large" pixels as compared with those that you would find on an LCD, or CRT-based display for example. When they stand side-by-side to LCD televisions, or standard CRT displays they can seem to fall a little short.
Unlike an LCD display which is designed for close up viewing, a plasma display is best viewed from a few feet away at minimum. In a typical living room environment you'll see the best picture quality, but since the SPL4225 also features a standard 15-pin RGB computer monitor connection, what's the picture like up close?
Yes that's right, this 42" plasma display can be connected to a computer to act like a giant monitor for presentations, or heck even gaming.
As part of our...ummm testing...we played a few rounds of UT2003 on the 42" SPL4225.
Since the refresh rate sits at 60Hz, after a few hours of fast moving screens you'll have a guaranteed headache if you sit too close. In any case, with a maximum resolution of 1024x768 from the PC, the quality of image is good, but for the best picture a resolution of 800x600 is the choice to select (640x480 is also supported).
Compared to the Fujitsu P2000 notebook which this review was written on :) the screen of the Samsung SPL4225 Plasma Display is about eleven times larger. As a computer monitor it is limited to a legible resolution of 800x600 or 1024x768. The actual plasma resolution is 852x480 so 800x600 tends to show off a slightly better quality picture if you are running a Microsoft Powerpoint presentation on the SPL4225 for example.