On Screen Menus and Settings
Sound:
Basic setting for bass, treble and balance are accessible from this menu along with the option to enable Surround Sound which has a few interesting presets (Concert, Hall, Stadium). Menu's are navigated with the help of a little joystick on the SPL4225's remote control, or via the control on the bezel of the display.
Time:
The SPL4225 has a few time related functions which allow you to set the display to turn on or off during a certain periods of the day (one option for each setting), and to display the time if desired. So for example if you wanted to ensure electricity isn't wasted, the display could be set to turn on at 9AM every day, and shut down at 5PM when everyone in the office heads out.
Setups:
Basic setup functions are included, but we're not going to dwell on them very much here.
Video:
There are a slew of settings you can adjust to ensure you see the best possible picture for your environment, and for the signal being shown on the display. The dynamic setting for example, adjusts the display for optimal viewing considerations.

PIP:

The PIP feature splits the screen down the middle vertically giving you two large pictures that are about the same as a good sized CRT TV.
Final Conclusions of this Jaw-Droping Plasma
SPL4225 Rear Panel Terminals

Terminals: One S-Video input, one RCA Video input, four pairs of Left/Right Audio RCA inputs, two pairs of RCA component inputs (480i/480p and 480p/720p/1080i) and one 15-pin Dsub RGB computer connector.

480i/480p: Connects to a source with Y, Pb, Pr signals like a DVD player.
480p/720p/1080i: Connects to a source such as DTV (Digital TV) set top box with Y, Pb, Pr signals.
The unit we received for testing came fully loaded with all the accessories currently available, but I think it is worth emphasizing that in most cases the SPL4225 plasma panel is sold just by itself - the accessories will cost extra. To put things into perspective, all the accessories which are mentioned in this review would bump up the total value by over a grand. Clearly, plasma displays are the pinnacle of the home theatre environment, and that draws a premium price tag for accessories.
Feature wise, the Samsung SPL4225 plasma display comes with a good crop of inputs for various video signals including two sets of Component Input (480i/480p and 480p/720p/1080i), one RCA Video Input, one S-Video Input, four pairs of stereo RCA audio inputs, and a 15-pin D-Sub VGA connection for a computer hook up.
Yes, that's right a computer monitor cable. The benefit of using an all digital display is that you can connect it up to a computer and use it as a presentation monitor. The rear of the plasma display is heavily vented for passive cooling so that no fans are necessary, which is a big plus since they could disturb the 'peace' of a good home theatre environment.
The Samsung SPL4225 comes with optional speakers that mount on either side of the display, or attach to yet more optional add-on stands to become free standing but we found it nicer to have the speakers bolted onto the display so it wouldn't take up too much space. Attaching the speakers was dead simple, and in the end, the result looks as though they were built-in. The manufacturer charges a lot for each accessory, so this will also save on the cost of paying for stands to hold the speakers upright.
The sound quality from the two 10W speakers is as good as can be expected; in other words you don't absolutely need to spend another few thousand on a good amp and speaker setup, but chances are you'll want to in the long run. There is a limited amount of Bass to these 10W speakers, but thankfully the output is more than acceptable for most of us.
Samsung's Tantus SPL4225 42" Plasma Display boasts the best specs of the three plasma models currently in the Tantus product line and has an MSRP of just around $10,000CDN as we've shown it here (actual retail price is closer to $8,000CDN). With a screen brightness of 600 cd/m2 and a contrast ratio of 700:1 the Samsung SPL4225 is a pleasure to watch, and would be an excellent addition to any high end home theatre system!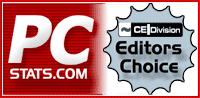 Check out Dealtime for the latest pricing on the Samsung SPL4225 Plasma display.